104 Minutes - Director: David Hoolbrooke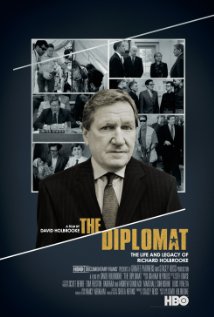 Richard Holbrooke's career spanned 50 years in foreign service - from working in Vietnam, to negotiating the Dayton Peace Accords which secured peace in the Balkans and was Holbrooke's biggest career achievement, to serving as special envoy for Afghanistan and Pakistan which was his last assignment and went unfinished. Although he was no pacifist and recognized the usefulness of American military power, Holbrooke was always convinced that it was diplomacy and not military action that ended conflicts and brought peace.
In a quest to get to know his father better in death than in life, filmmaker David Holbrooke retraces his father's steps over his entire career. "My father died trying," said Holbrooke in a Q&A session moderated by Willow Bay following the screening.
Holbrooke first decided to make the film after seeing who attended his father's memorial service at the Kennedy Center in 2010. There was "a former president, a present president, and perhaps a future president," said Holbrooke. "I really did see him in a different light," he said adding, "I just thought I have to do this."
The film opens with Ambassador Holbrooke responding to a TV news interview about how high a price one should pay to do good in the world. "Those people who travel into dangerous areas should do so fully aware that they're taking great risks," Holbrooke said. "But life is always risks. The important thing is not to be reckless."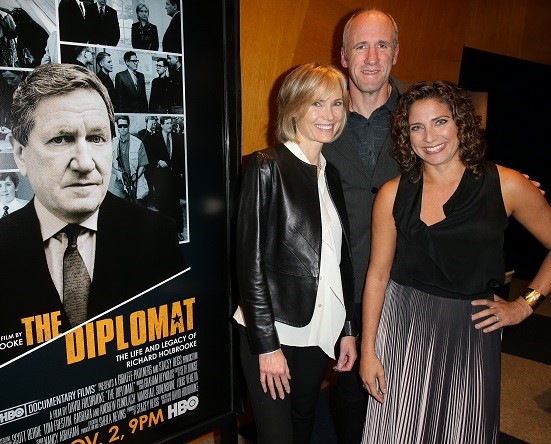 Willow Bay, David Holbrooke, Stacey Reiss (photo: Imeh Akpanudosen/FilmMagic)
Holbrooke pieces together the life of a father described as "absent and distant" as well as "having his own energy field" throughout the film. He travels to the sites of his father's most notable diplomatic efforts and assembles an impressive series of interviews with family members, colleagues and world leaders. Together with film producer Stacey Reiss, Holbrooke interviewed 75 people for the film including: Bill and Hillary Clinton, Madeline Albright, Al Gore, Ashraf Ghani, Bakir Izetbegovic, Kofi Annan, David Petraeus, Tom Donilon, Doug Lute, Christiane Amanpour, andDiane Sawyer. Bay described the list as "a who's who of contemporary world history."
In probing his father's story, Holbrooke discovers vivid letters his father wrote to his mother while in Vietnam as a foreign service officer. "He always had a sense of his own history," said George Packer who is writing Holbrooke's biography. "Darling Litty," the letters read. "The tension in Saigon is amazing. I've never experienced anything quite like it.... I really don't know how I will react to war, but it sounds like war there really will be." Holbrooke would later say that people thought he was overly influenced by Vietnam but that it didn't matter because at least he "had some experience with that."
Holbrooke follows his father's path to Sarajevo, driving through what was then known as 'sniper alley' and stopping at the Holiday Inn where his father stayed because he "hated being in the diplomatic bubble." The film portrays breathtaking behind-the-scenes diplomacy by a relentless Holbrooke as he negotiated the meeting of 3 Balkan presidents in Ohio. "That's a fearsome site - Holbrooke with traction," said a journalist recounting that period. Holbrooke's efforts resulted in the Dayton Peace Accords.
It wasn't until after his father's death that Holbrooke learned of and listened to audio tapes his father kept - both of his secret background meetings with investigative journalist Bob Woodward and additional personal recordings that were made while he was special representative for Afghanistan and Pakistan under President Obama. Holbrooke had kept his concerns about the Afghan troop surge close to his chest and in the recordings he wasn't optimistic. "I have serious concerns about the fact that our troops are spread too thin" and that we'll get into a "resource mission mismatch," Holbrooke said to Woodward on tape. While listening to the tapes for the film, Holbrooke said, "They were amazing to hear because it was him unfiltered."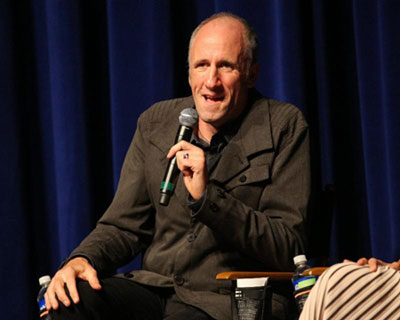 Director David Holbrooke (photo: Imeh Akpanudosen/FilmMagic)
When asked during the Q&A about Afghan foreign policy today, Holbrooke said, "We still don't have a strategy....It's not that my father had a silver bullet that was going to figure it out," he said. "But he was certainly trying and I think, and I'm biased obviously, he was the best shot at it and here we are and it's a mess." Holbrooke, however, remains optimistic and said diplomacy is all over the news these days with the Iran deal, Myanmar and Cuba. He also pointed out that the very last line in the film's credits is 'dedicated to the next generation of diplomats."
The Diplomat premiers on HBO on November 2nd.