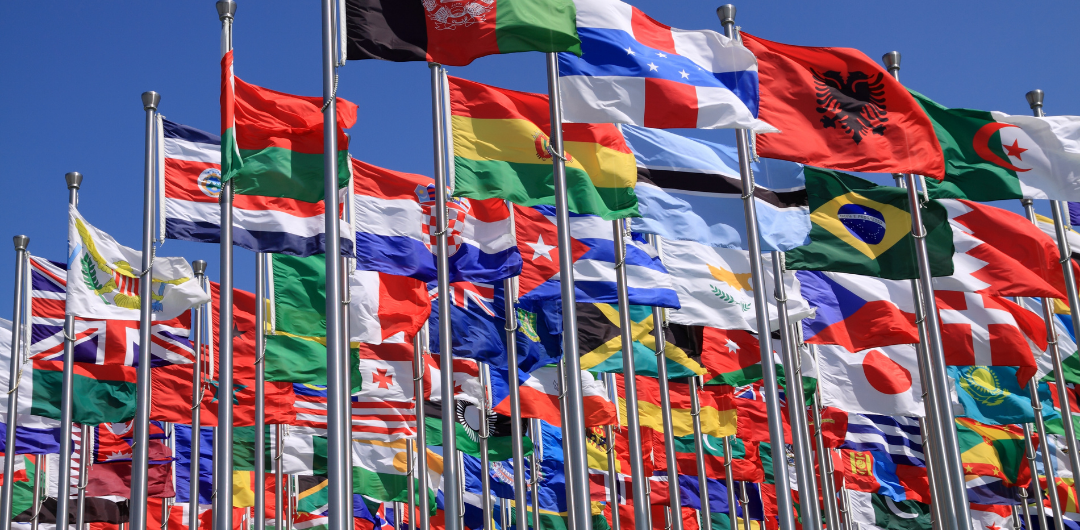 Founding And History of the Los Angeles World Affairs Council & Town Hall
In September of 2019, two of Los Angeles' most iconic speakers' organizations — the Los Angeles World Affairs Council and Town Hall Los Angeles — merged to form the Los Angeles World Affairs Council & Town Hall. With a combined 150 years of shared experience on debate and public discussion, and combined speakers spanning over 250+ international heads of state and eight U.S. Presidents, the merger was a recommitment to lively, topical forums designed for public attendance and participation.
Rooted in rich and complimentary history, the Los Angeles World Affairs Council & Town Hall has quickly paved its new path to become Southern California's largest speakers' forum. Through the organizations recent expansion into digital programs — the organization has quickly established itself as one of the nation's largest programming organizations committed to expert-led discussion and international, domestic, and regional affairs.

notable recent speakers have included:

Microsoft Founder Bill Gates, 2020 Presidential Candidate Pete Buttigieg, Former U.S. National Security Council Member Fiona Hill, Former Governor of California Jerry Brown, U.S. Senator Tim Scott, Former U.S. Ambassador to the UN Samantha Power, and California Secretary of State Alex Padilla
Prominent Speakers Throughout the Years
Over the last eight decades, the Los Angeles World Affairs Council & Town Hall has hosted an impressive feat of  speakers. Legacy programs of that live on in our organization's collective memory include:
U.S. President Harry Truman (1944)

Civil Rights Leader Dr. Martin Luther King, Jr. (1965)

Supreme Court Justice Thurgood Marshall (1966) 

U.S. President Ronald Reagan (1967)

Israeli Prime Minister Golda Meir (1969)
Senator Edward M. Kennedy (1974)
His Royal Highness Charles, the Prince of Wales (1977)
The Dalai Lama(1979, 1984)
Los Angeles Mayor Thomas Bradley (1982)

Chancellor of Germany Angela Merkel (1993)

King Hussein of Jordan(1959, 1995)
British Prime Minister Margaret Thatcher(1991)

Prime Minister of Pakistan Benazir Bhutto (1991)

U.S. President George W. Bush (2001)
British Prime Minister Tony Blair (2006)
Colonel Buzz Aldrin (2009 and 2013)
Tesla and SpaceX Founder Elon Musk (2013)

Supreme Court Justice Sandra Day O'Connor (2014) 

U.S. President Bill Clinton (1992, 2014)
U.S. Senator John McCain (2014)
Japanese Prime Minister Shinzo Abe (2015)
United Nations Secretary General Ban Ki-Moon (2016)
Read more on The Los Angeles World Affairs Council's Founding
The Los Angeles World Affairs Council was founded at a meeting on September 8th 1953 in Room 3 of the California Club in downtown Los Angeles. The idea of the four founders – Paul Hoffman, Preston Hotchkis, John McCone and Louise F. Pellissier, was to present speakers to help Americans better understand the outside world, and the role the US could play in the world. It was part of a loosely affiliated movement nation-wide to form World Affairs Councils to counter the rise of isolationist tendencies that occurred after both World Wars when many Americans were inclined to turn their backs on what some saw as the problems of others.
The founders of the Council had broadly outward-looking views, seeing both opportunities and threats around the world as US corporations looked for export markets at the same time as the Cold War set in. Paul Hoffman, who had been head of the Marshall Plan for Europe and president of the Ford Foundation, summed up the Council's vision at the first meeting. According to the minutes: "Mr. Hoffman outlined briefly the necessity at the present time that adequate information be brought to the American public so that intelligent decisions regarding United States foreign policy should be made…"
At that first meeting, the directors voted to expand the board to 35 members, and decided to invite Secretary of State John Foster Dulles and Vice President Richard Nixon as some of their first speakers.
Read more on Town Hall Los Angeles' Founding
Town Hall Los Angeles was founded in 1937 by the Los Angeles business community, committed to presenting issues that affect the daily lives of Angelenos and provide a platform for the discussion of solutions from a nonpartisan viewpoint. Town Hall Los Angeles' archive of nearly 5000 speakers boasts a rich depth of conversation about the economy, infrastructure, education, and more.