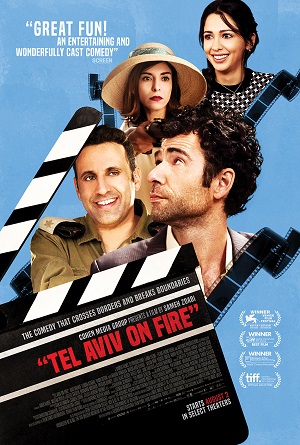 Tel Aviv on Fire (2018) Movie Poster. Filmmaker: Sameh Zoabi
A production grunt on a popular Palestinian television show in Ramallah, Salam (Kais Nashif) is a 30-something Jerusalamite who has to cross a checkpoint each day to get to work. "Tel Aviv on Fire" is popular among both Israeli and Palestinian viewers, and upon discovery that Salam works on the show and is close to its star (Lubna Azabal), Assi—an over-zealous border officer—decides he's going to have a roll to play in the series' storyline—especially after Salam tells him that he's a writer on the show. When Assi insists that his ideas be incorporated into the action if Salam wants to pass the checkpoint everyday, the hapless Salam ingratiates himself with the show's star and begins to develop a new identity as a writer. Obviously, nothing goes as planned..
NPR calls it a 'Soapy Satire'; LA Times writes, 'deliciously walks fine comedic line of Israeli-Palestinian conflict'.