59 Minutes - Director: Greg Barker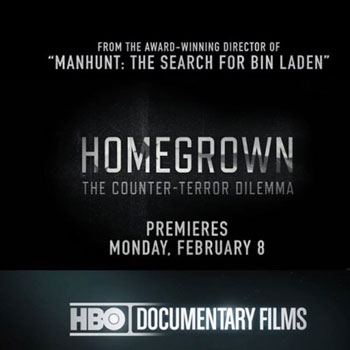 Homegrown: The Counter-Terror Dilemma looks at the efforts of US authorities to detect and stop acts of terrorism on US soil by US citizens who have somehow become radicalized, and the difficult questions that brings up in terms of civil liberties, intrusive surveillance and racial and religious profiling. Filmmaker Greg Barker avoids the hysterical fear-mongering that has spread in presidential campaigns and the media, and instead delivers a thoughtful and nuanced look at the dilemmas facing law enforcement, and the anxieties and fears of many Muslim Americans who struggle to understand and contain the spread of radicalizing tendencies within their own communities.
The film opens with and CNN security analyst Peter Bergen testifying to a Congressional Committee about the difficulty of understanding how and why American-born Muslims can radicalize. Cleverly structured, the film follows the case of the Bangladeshi Sadequee family, whose son Shifa is arrested and put on trial for "material aid to terrorists", even though no actual terror attack has taken place. The evidence against Shifa points to online conversations he had on jihadi sites about how to make bombs and how to kill Americans, and a shaky video he and friends shot of key sites in Washington, DC that was sent to a known terror group in the UK.
Homegrown alternates between the polar opposite perspectives of Shifa Sadequee's family and the former Deputy Director of the CIA's Counterterrorism Center, Philip Mudd. Shifa's family can't comprehend the idea that Shifa could be capable of anything remotely violent. Mudd, on the other hand, says that from looking at all the online traffic and the people with whom Sadequee is in contact, the danger consists in not arresting him. Shifa was sentenced in 2009 to 17 years in prison, followed by 30 years of probation.
Director Greg Barker, who has also made films about the hunt for Osama bin Laden (Manhunt) and the Arab Spring (We are the Giant) said his motivation for making this film was the twin events of the Boston Marathon bombings and the 2013 Santa Monica shootings that left six dead. The latter shooter went to the same school as his kids. It was then that Barker learned from counter-terrorism officials that when a school shooting happens in this country, one of the first questions - if not the first question - is "what's the guy's last name?" Intrigued by the complexities raised by this issue, Barker set out to see if he could "unpack it."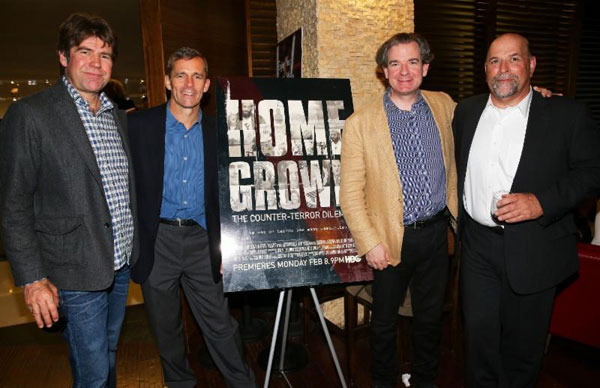 Director Greg Barker, Terry McCarthy, CNN Security Analyst Peter Bergen & CIA veteran Andrew Liepman
(photo: Imeh Akpanudosen)
The film also shadows Nader Hasan, a successful attorney in Virginia, and his cousin, Nidal Malik Hasan, a U.S. Army psychiatrist who killed 13 soldiers in an attack at Fort Hood in Texas. "There's a wonderful quote from the philosopher Immanuel Kant," said Bergen during the Q&A session on February 4th. "From the crooked timber of humanity, not a straight thing is made." Nader and Nidal were cousins and "had the same set of cards from birth - two sisters married two brothers," said Bergen. "The more you look into these stories, the 'why' becomes unclear...you never really get to the why at the end of this."
"The American public has demanded that there should be none of this (terrorism) going forward," said Bergen adding that huge resources are being put towards counter-terrorism intelligence. "If you are charged with a terrorism offense in this country, the likelihood of you being acquitted is 1%," said Bergen who has created a database of 300 plus such cases since 9/11.
"You can't prevent all terrorism," said CIA veteran Andrew Liepman during the Q&A session. "At the end of the film," said Liepman, "the question 'what would you do?' is really rhetorical because we in the counter-terrorism business have no choice." Everyone in America expects us to do "everything we can to stop terrorism," he said.
By the same token, Bergen said that the sky is not falling with regards to terrorism threats. "Since 9/11, 45 Americans have been killed by jihadi terrorists in this country," he said adding that we have so far managed to contain this problem. In the film, Liepman lists a number of other issues Americans should be paying more attention to - like cancer research, obesity, and gun violence - but he acknowledges that they "don't capture the American imagination the way ISIL does."
The film culminates with Shifa Sadequee's family traveling to meet the former CIA official, Mudd, who says that Shifa's case has always stuck with him. "You are sitting there watching this 18 year-old boy taking surveillance video of the White House and you just want to pick up the phone and say 'son, don't do this'." But the law took its course, and Shifa went to jail. As the family sits down with Mudd, both are very nervous. The Sadequee family repeat that nothing bad actually happened, so how can their brother be in jail. Mudd says, "It was a very serious case and I can't deny that... but I am sorry, because I know how hard it is on the family." Asked about these closing scenes, Barker said: "These are two sides of our society that never come together, do come together in that room briefly, and then they are repelled apart...and it's not very satisfying...This is America."
Thank you to our event collaborator