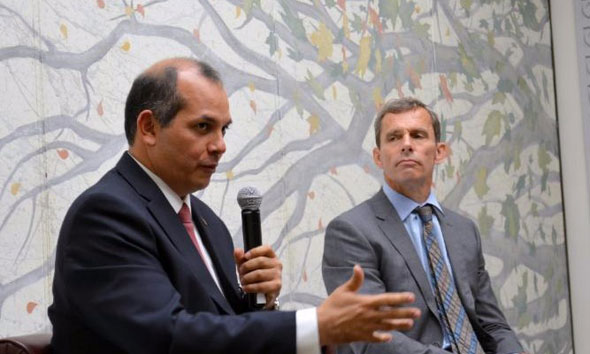 Peru's Ambassador to the US, Luis Miguel Castilla, speaking at the Council
Peru is one of Latin America's recent success stories - in the past 10 years it has doubled its GDP, tripled exports and increased foreign investment by a factor of 10. In that same time period poverty has been reduced from 60% to less than 20% - "and we even have three of the top 50 restaurants in the world," said Luis Miguel Castilla, the Ambassador of Peru to the US and a former Economics and Finance Minister. The reasons for this success? - a tradition over the past 20 years of sound economic management, irrespective of changes in government. This has given the country a low debt - equivalent to 3% of GDP - and an open economy in terms of trade and capital flows that is powered by private investment. "We are a country that believes in the private sector as an engine of growth," said Castilla.
In stark contrast to the state-dominated economies of countries like Venezuela, Peru has found itself part of the Pacific Alliance grouping of fast-growing economies that also includes Mexico, Colombia and Chile. Founded three years ago these four countries have liberalized trade and the flow of people, and are working on freeing up their financial and energy markets. "It is a very dynamic block," said Castilla.
The country has come a long way. In the late 80's it had reached "rock bottom - bad security, terrorism, hyperinflation - we had sunk so low we were able to build a consensus." Other countries in Latin America avoided hitting rock bottom because they had something to save them - like oil - and so they never made the necessary economic reforms.
Castilla conceded that Peru was heavily reliant on mining, particularly by Chinese. "But the Chinese companies that are investing now are different from those of 20 years ago - they were awful. But today they are run by British and Australian managers, they are listed on international exchanges, and they are more transparent and sustainable."
The resistance in parts of the US Congress to the Trans Pacific Partnership trade agreement between the US and Asian economies makes no sense, Castilla said, because the pact will be a win-win for everyone involved. "We think it is a myth that trade has been detrimental to the US." The TPP will establish the rules of trade in Asia, the standards by which business will be done. "Trying to undo globalization is not an option."
Asked if the 21st century would turn out to be another American Century or the Chinese Century, Castilla came down firmly on the US side. "I send my kids to school in the US, not in China." The one lingering thorn in the side of US-Latin American relations - US-Cuba relations ("or more specifically, lack of relations") is now disappearing....This country's innovation and its ability to fix its problems pays off." Despite the problems the US has, "when there is a crisis, people go to the dollar. I wouldn't be worried about China - talk of a threat is more rhetoric than reality."