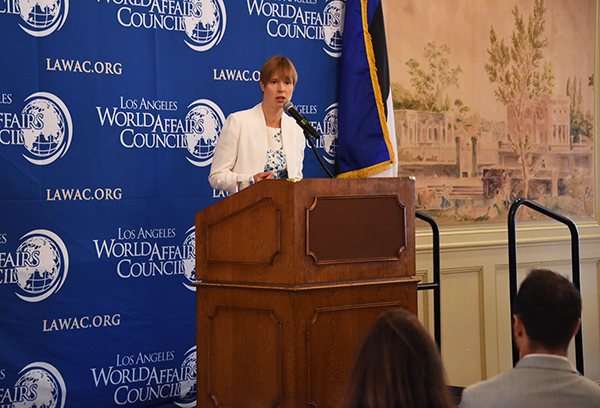 President Kersti Kaljulaid addresses LAWAC members and guests.
Estonian President Kersti Kaljulaid spoke at a LAWAC breakfast on October 3rd about Estonia's rise to become the leading digital-first republic. Estonians access all of their data through a secure online database, backed up via a digital embassy in Luxembourg and blockchain technology. While the US is likely far off from going fully digital like Estonia, teaching and practicing online safety can be started today. Kaljulaid emphasized this when she said, "We teach children to wash their hands to protect themselves from getting sick and in the same way we need to teach our children to protect themselves online." She said that Estonians would never trust companies like Facebook with their data because it's just not secure and encouraged attendees not to trust information from sources that the person does not know.
She addressed Estonia's commitment to the EU and NATO, firmly stating that a small country like Estonia was not there just to gain protection, "We see ourselves as contributors not just consumers of international security." Despite the concern some might assume she would have from sharing a border with Putin's Russia, she was adamant that they are not afraid and that they trust NATO to do its job.
When asked about being the first female president of Estonia and one of the few female presidents in the world, Kaljulaid said, "We have not won the fight just because there is a female president, we have to keep fighting." She mentioned that she is routinely asked about her four children and how she juggles parenthood and the presidency, while Prime Minster Jüri Ratas, who also has four children, is not.