91 Minutes - Director:
Laura Gabbert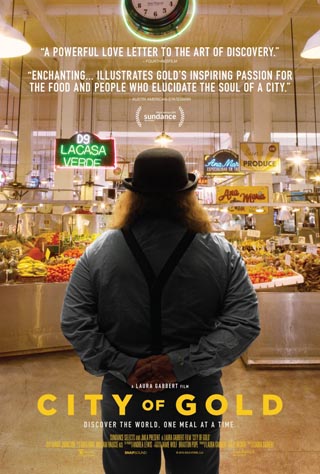 "I will always go to a restaurant 4 times, sometimes 5," said Jonathan Gold about his food reviewing process, following a screening of the documentary film City of Gold. The Pulitzer Prize-winning food critic for the L.A. Times talked about how "food transcends politics", what Trump might eat, his love of Los Angeles, and his next project during a Q&A session with the Los Angeles World Affairs Council on Tuesday, March 15th.
City of Gold takes viewers on a culinary road trip through the sprawling metropolis of Los Angeles and the huge magnitude of cultures and cuisines the city has to offer. "He really wanted it to be about Los Angeles through his eyes," said the film's director Laura Gabbert about Gold. "The beauty about following Jonathan's writing is you actually have to get in the car and drive," said Gabbert. Driving in his pickup truck, Gold eats everywhere from food trucks, to mini malls, to hole-in-the-wall joints and upscale restaurants. He travels east to downtown's Grand Central Market food scene, and west to a small sandwich shop called Attari. "You should go there," said Gold. "They're recreating the café social scene from Tehran 40 years ago... they do this soup on Fridays called ab-goosht that's just dynamite." The film is shot in about 40 ethnically diverse locations. It felt "so much like my city, the city I know," said KCRW's Evan Kleiman who moderated the Q&A discussion.
Gold, the first and only food critic to win the Pulitzer Prize, is best known for championing real-people food from restaurants that started out small. His knowledge base has been built over decades through tasting, reading books and cooking. "I think the relationship with ingredients, knowing the way things taste and smell - knowing the way foods can just transform themselves....is essential," said Gold. His editors, when they aren't chasing him down for missed deadlines, laud him for his extensive gastronomic expertise and unique prose that "brings readers to his table." Chefs praise him for discovering their recipes and sometimes helping them define their own ambitions. "When he writes about me," said celebrity chef Roy Choi whose Kogi BBQ taco truck was parked outside the theater for the screening, "he understands and is able to articulate the little secret tangled webs I have inside that I'm trying to put out."
The one thing viewers don't get to see in the film is Gold actually reviewing a restaurant. "It's like the Heisenberg's uncertainty principle of restaurant criticism," explained Gold. "You can't both review a restaurant and be observed reviewing your restaurant." Gold talked about his "5 visit arc" review process - and it is intense. "I will always go to a restaurant 4 times, sometimes 5," said Gold, "Unless it's a cuisine I'm not familiar with, in which case the sky is occasionally the limit." His record is 17 visits. "The first time you go to a restaurant you are sort of waiting to be awed or struck that something would happen," said Gold. "The next couple are analytic in certain ways, and the last one you're sort of daring them to - and daring yourself to - put together a splendid meal and see how will it be done." This thoroughness results in an annual list of 101 Best Restaurants in Los Angeles, eagerly anticipated by local food fans. "The idea is that every single one of those is a place that you will go to and experience deep pleasure," said Gold.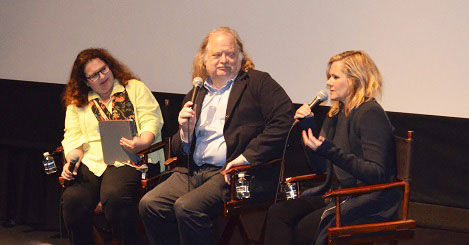 Q&A with moderator Evan Kleiman, Jonathan Gold, and director Laura Gabbert
Gold used to hide his identity when going to restaurants - switching up his reservation name and phone number and using disposable phones. Gold jokingly likened the experience to the "fat man's version of Bourne Identity." With the explosion of social media, Gold doesn't feel the need to hide anymore. "It was less a question about going to a restaurant unnoticed than it was me pretending not to notice them, pretending not to notice me, noticing them, noticing me," said Gold.
When asked, particularly with regards to the presidential election, if he thinks food bringing people together is a utopian idea, Gold said, "Food transcends politics. You can spend a day with pig farmers whose politics you absolutely abhor, then you sit down to dinner with them and it's just great.... it's really hard to hate somebody you've had a splendid meal with, right? But I can think of exceptions." When asked about Trump's food preferences, Gold said, "Donald Trump would probably mandate mayonnaise sandwiches on white bread with the crusts cut off."
Earlier in his career, Gold wrote about art and books and was a music critic. He also refers to himself as a "failed cellist." Having passed the Foreign Service exam, Gold at one point contemplated going into public service. But Gold had already started spending his days in restaurants. "The idea of working at a consulate in Botswana seemed less appealing than it might have a couple years before that.... I've spent a lifetime trying to atone for that," said Gold. "I became a food writer completely by accident but it became what I aspired to," said Gold. "The idea of celebrating the glorious mosaic of the city on somebody else's dime was just completely fun and completely exactly what I wanted to do," he said. "I kept feeling like I was getting away with something."
On his last meal, Gold would choose a favorite restaurant (that has since closed) in the Tuscan countryside north of Arezzo. He described "absolutely perfect antipasto tables... with all the great Tuscan vegetables roasted or braised, sprinkled with anchovies from the Mediterranean ... the wine is from the field out past the tractors."
On his next project, Gold said he has been enjoying going down Pico Boulevard again. In his early 20s, Gold aspired to eat at every restaurant along the 15 mile stretch of the street. "I've lived near Pico for a huge percentage of my life," he said. "I have a book due in August, sort of on Pico - it's called Breakfast on Pico."
When asked what to order at unfamiliar restaurants, Gold said, "If it's a restaurant with a cultural cuisine, I will order things that seem to come from the region that the restaurant's from. If it's not, then I will always order the weirdest thing on the menu first. And my wife will order the second weirdest thing on the menu." Close with his family, Gold often invites his son and daughter along to eat. "My children are almost traumatized because they know I will look at them sternly if they order the chicken."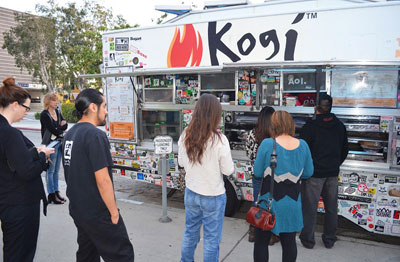 Celebrity chef Roy Choi's Kogi BBQ food truck parked outside the theater