This screening featured a Q&A with Siseko Ntondini and Piers Cruickshanks, the inspiration for the film.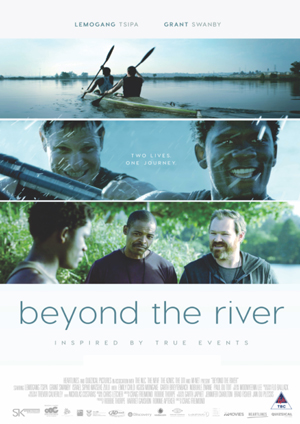 Beyond the River is an inspirational film, based on a true story of a two-man canoe team in South Africa, one black and one white, who overcome enormous challenges to compete together in a 75-mile marathon. The film has some spectacular aerial footage of the canoeists making their way through majestic South African landscapes, while taking on the weighty subjects of the continuing racial and economic disparities in the country.
The three-day canoe race, called the Dusi, attracts some 2,000 contestants and is the biggest such race in Africa. Duma, who is black, has grown up in the deprived, hardscrabble neighborhood of Soweto, where he desperately wants "to be somebody", but doesn't know how to. Then, by chance, he is thrown together with Steve, a white canoeist and teacher who is looking for a partner to compete in the Dusi. Both men struggle to make it work – Duma cannot afford the daily bus fare to meet Steve for training while Steve's failing marriage has made him emotionally inaccessible. But the canoeing manages to bring them together, and they overcome racial taunts, injuries and social obstacles to compete in the race.
The two main characters in the film are based on Siseko Ntondini and Piers Cruickshanks, who attended the LAWAC screening. In the Q&A afterwards, they talked about the progress South Africa has made in racial relations and how the competitive nature of sports tends to help to focus peoples' minds on performance and erase racial consciousness. As for the US, Siseko said that coming to LA from South Africa he was more scared here as a black man, after reading about police shootings – "They don't ask, they shoot."