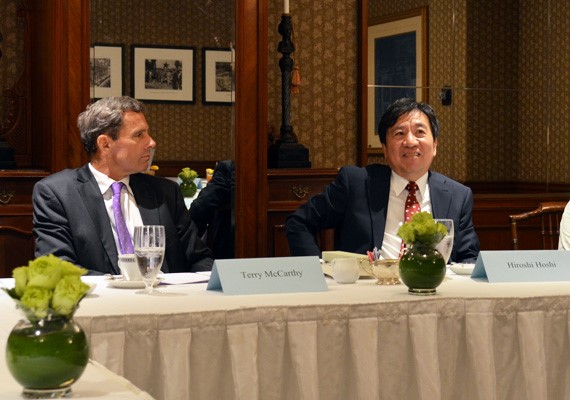 Terry McCarthy and Hiroshi Hoshi
Japan is deeply conflicted over how to deal with China: Japanese are nervous about China's military build-up in the region, particularly in the South China Sea, but at the same time Tokyo cannot afford to jeopardize the growing trade relationship between the two countries, according to Hiroshi Hoshi of The Asahi Shimbun newspaper. "Japan needs a new China policy," Hoshi told a roundtable lunch of Los Angeles World Affairs Council Directors and International Circle members on Wednesday, September 2nd. By increasing its defense spending and entering joint military exercises with the U.S. and Australia in the Pacific, Japan has been seeking "to contain China," said Hoshi. But "20% of Japan's trade is with China... we need to find a new way to engage China."
Japanese public opinion is divided on China, but the recent move by Japanese Prime Minister Shinzo Abe to push through a Security Bill that would allow Japan to come to the aid of the U.S. (or other allies) should they be attacked has proved very controversial. "Polls show 60% of Japanese oppose the Security Bill, 20% support it," said Hoshi. Currently Japan's Constitution prevents it from using military force unless there is a direct attack on Japan. Hoshi said that although Abe promised President Obama to push through the change when he visited Washington in April, the domestic opposition has cost Abe dearly. He said "Abe has lost a lot of political capital" by backing the Security Bill, and his support which was in the 70% range has dropped to about 40%. "Pacifism is very deep in Japan - more than you might think," said Hoshi. "In 70 years since the end of the last war, Japan's military has not killed anyone, and no Japanese soldier has been killed - that is a pretty remarkable record."
But even as the Prime Minister faces down large protests against the Security Bill, Japan has quietly begun lifting its ban on exports of military technology - another policy that has been in place for 70 years. Initially, said Hoshi, "it is just for some small things - technology for submarines for Australia and the U.S." But these exports are likely to expand under pressure from Japanese corporations like Mitsubishi and Hitachi who have military divisions.
Hoshi said that Abe has made uneven progress in his program of economic reforms, known as Abenomics. Since 2012 he has made substantial progress on the first "two arrows" - monetary and fiscal stimuli, but has been slower to implement structural reforms that would open up Japan's markets and bring in more women and foreigners to the workforce. Such changes are bitterly opposed by labor unions and by some of the right wing groups who support Abe. Hoshi said that the Abenomics report card would give him an "A" grade for monetary easing, a "B" for fiscal stimulus, but only an "E" for structural reforms - "and that all adds up to ABE, or Abe!"
In the end, Hoshi said that whether Japan pushes through the necessary hard reforms will depend on whether Abe can build a consensus for change amongst business, labor unions, farmers, doctors and the various other centers of power in Japan. But he may be running out of time - Japan has Upper House elections next summer, and if Abe's LDP party loses those elections, he may be forced to step down as Prime Minister. In that case, the musical chairs of Japan's politics would continue, and reform would be further postponed.