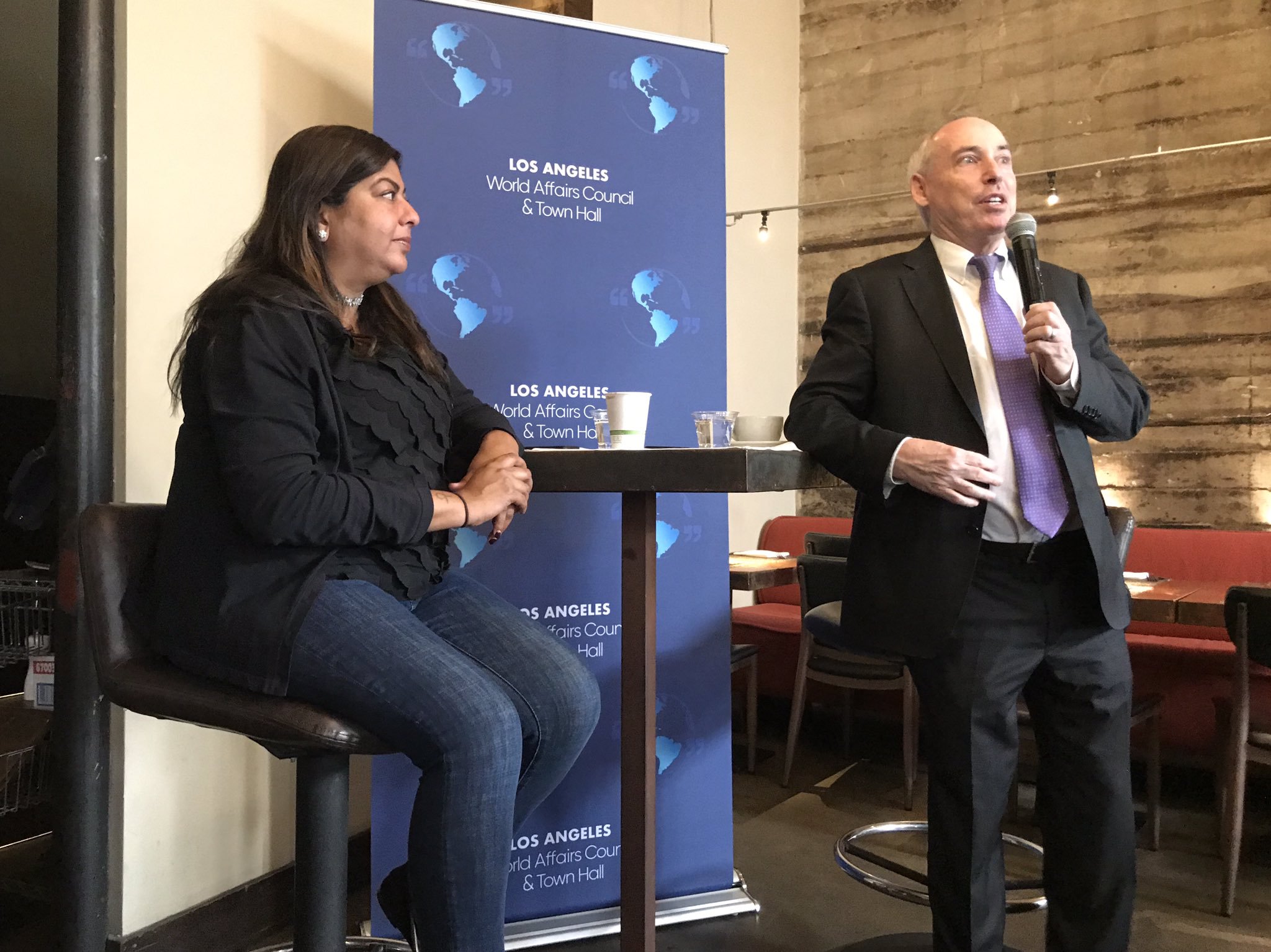 Seema Mehta of the Los Angeles Times, and Dan Schnur, discuss the 2020 Election
To kick-off a new, year-long 2020 Election Series, the Los Angeles World Affairs Council & Town Hall was delighted to welcome professor and political expert, Dan Schnur (who will moderate each installment of the event series) and Seema Mehta, an award-winning political writer for the Los Angeles Times.
Schnur also commented on Trump's tremendous success in getting his core base of followers to really rally behind him no matter what, all the while leaving those undecided voters alone. An interesting strategy considering most politicians employ the 80/20 rule, where candidates focus 80% of their attention and resources on appealing to the middle 20% of voters. Mehta offered statistically-backed anecdotes on how in the 2016 election, there were voters who hid their support for Donald Trump for fear that they would be ostracized by their leftist California peers. She posed the question: are there large numbers of Trump supporters that are unaccounted for? If so, what does that mean for the election?
"Underneath an angry person, is a frightened person," Schnur offered. "Both Donald Trump and Bernie Sanders have found a way to appeal to the fears of their bases and get those supporters to authentically engage in their platforms."
Mehta and Schnur confabulated about the immense changes, both cultural and economic, that are occurring in today's society. Changes that are, in fact, the biggest transformations society has seen since the Industrial Revolution, Schnur pointed out. The twosome also admitted their excitement for the upcoming election and how hugely it will shape culture, regardless of the outcome. The point was stressed that now, more than ever, civic engagement and participation is crucial, no matter what side of the line voters fall on, to ensure that America remains a nation of power and integrity.
The Kal Eisenberg Breakfast Series on the 2020 Elections will be looking at critical issues and trends, candidate's positions on domestic and foreign policy, insight on US voters, and analysis of the primaries. Kal Eisenberg understood that our democracy was built on a foundation of spirited but respectful civic discourse and political dialogue. This breakfast series is named in that spirit, and in his memory.