This screening featured a Q&A with director Matt Heineman and stars Rosamund Pike and Jamie Dornan. It was moderated by actor Armie Hammer. By Tracy Navichoque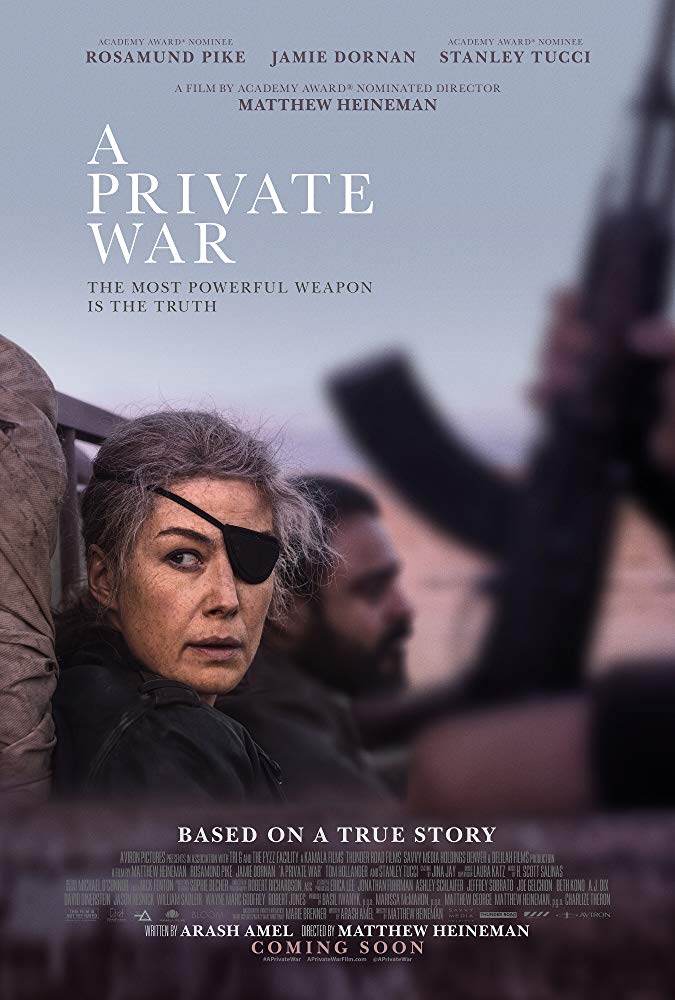 What is the human cost of war? Los Angeles World Affairs Council members grappled with the question at a screening of A Private War on November 3rd. Matthew Heineman's biographical drama tells the story of legendary war correspondent Marie Colvin and explores the effects of war on civilians.
Following the screening, Armie Hammer moderated the Q&A with Heineman and stars Rosamund Pike and Jamie Dornan. Hammer prompted the actors and the director to share their perspective on the importance of showing Marie Colvin's mission, who had acknowledged, "I hate being in war zones, but I also feel compelled to see it for myself."
Pike, who played Colvin, stressed that she believes the film will shed light on the role of a journalist and the cost of uncovering the truth, the sacrifices of getting a story and the toll those experiences can have on a person's mental health. "As an actor," she said, "you hope your film will have relevance with current events but as a cast we could not predict that we would find ourselves in the center of a debate, a crisis for journalists who found themselves to be targets in their efforts to be preservers of truth." She exhorted viewers to discover Marie Colvin's journalism or a period of history that she covered – such as Colvin's personal interviews with Muammar Gaddafi in Libya – because journalism "is just a rough draft of history."
Directing A Private War was Heineman's first time on set. His background as a documentarian allowed him to be "open to the story changing, to be scripted but open to improvisation," noting that many in the film were not actors but real refugees in Jordan. In the film, one of the women interviewed by Pike's character was a real refugee explaining how she had been feeding her infant daughter nothing but sugar and water. With her unyielding gaze, she urged the reporter that she doesn't just "want her words to be ink on paper… but want[s] the whole world to know that a generation is dying."
Dornan, who played photographer Paul Conroy, agreed that the film is "timeless and timely." He reminded the audience that 500,000 civilians have died in Syria since Marie's death in 2012 and openly wondered, "All these risks to tell the truth and six years later the situation is not any better?"
The Council previously screened and reviewed Matthew Heineman's award-winning documentaries Cartel Land and City of Ghosts.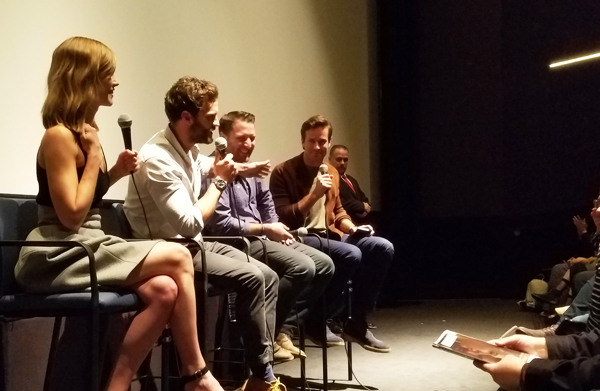 Rosamund Pike, Jamie Dornan, Matt Heineman and Armie Hammer