This screening featured a Q&A session with director Sebastian Leilo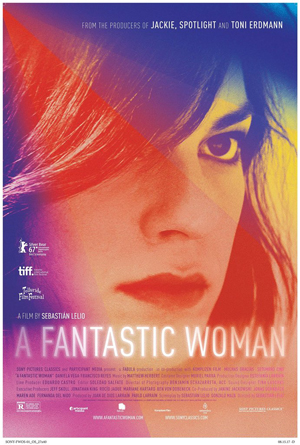 A Fantastic Woman opens on protagonist Marina soulfully singing Héctor Lavoe's salsa Periódico de Ayer, a song about love being yesterday's news, as her boyfriend Orlando looks on. What the two didn't realize was that the song would overshadow Marina's future in this tale of identity, acceptance and mourning.
Marina is a transgender woman who is a waitress and club singer. Orlando is divorced and in his late 50s. The two have a strong bond – they are each other's world and their love for each other is a protection from the prejudice surrounding Marina and what their relationships stands for. But this world comes crashing down when Orlando wakes up one morning feeling ill and disoriented. As Marina gathers their things to go to the hospital, Orlando falls down a flight of stairs and succumbs to his condition and injuries at the hospital later that day. From that point on, as Marina navigates her grief, she has to endure suspicion, hatred and prejudice from Orlando's family and the authorities. But Marina does her best to rise above the negativity in hopes of a better tomorrow, stirring empathy in our universal experience of grief and rejection.
The only Latin American film to be nominated for Best Foreign Language Film at this year's Oscars, A Fantastic Woman, has "generated consciousness" beyond Chile according to the director Sebastián Lelio. Lelio did not want to make a film documenting the biography of a transgender woman, rather he aimed to demonstrate the friction she encounters in a society wrought with prejudice. She navigates through the film's guiding question, "What happens when the person you most love dies in your arms?" Lelio insists that we notice and question why society feels menaced by Marina even in her desire to mourn.