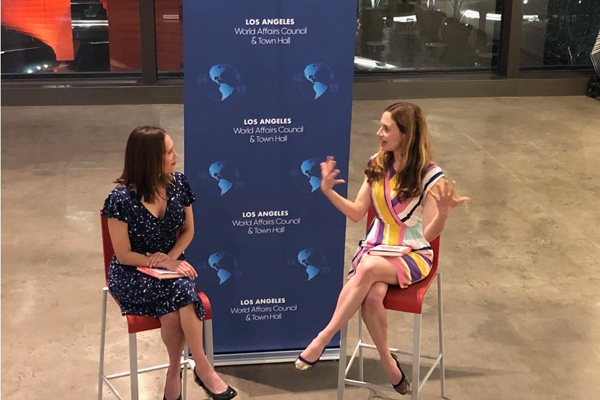 Professor Leah Plunkett in conversation with Lori Getz on her new book about "Sharenting"
Today, even the most human parts of society have been touched and evolved by the proliferation of technology. Leah Plunket is a Law Professor and faculty associate with the Youth & Media team at the Berkman Klein Center for Internet & Society at Harvard University. Her new book is about Sharenting: the ways that parents (as well as grandparents, teachers, and other trusted adults) transmit, store, and otherwise use children's intimate data via digital technologies. On February 20th, Professor Plunkett joined the Los Angeles World Affairs Council & Town Hall to discuss how parenting has been impacted by technology, and just how important it is to start having critical conversations about privacy in children's lives. The conversation was moderated by Instructional Technologist, Lori Getz.
Protecting children's privacy online is not that straightforward. Not only are adults willingly sharing sensitive information online, like their children's names and birthdays, our digital space is constantly collecting information without adults' direct knowledge. For example, many people do not realize phone apps are regularly collecting their audio because they have, at some point, enabled the "microphone" function. All of this data is collected and used in different ways that can have serious implications for children as they age.
But maintaining children's privacy, despite advances in technological data collection, is vital for a plethora of reasons. One of the biggest concerns Professor Plunkett shared was how technology disrupts children's ability to 'just be kids.' She argued:
"Kids need us to protect their privacy and especially their protected space to play — the space where they make mischief, make mistakes, and have fun."
Technology is a force that interrupts such play, and the effects of this can be detrimental to children's growth and development. Today, as children play adults in their lives constantly interrupt them to capture these moments digitally. Being interrupted and told to perform risks creating harmful notions of self-worth among other psychological impacts.
From here, Getz discussed the importance of children being allowed to construct their own self-image. As adults post about their children online from the time they are very young, adults are constructing an image for their child. Getz argues that parents and adults need to center children's agency and think of them as having their own rights. Just as adults expect to control how they appear online, we should allow children the same respect.
Whether it is protecting children's privacy, play, or self-image — critical conversations about how adults use technology in relation children must start.
Concepts from this conversation were derived from Leah Plunket's book, "Sharenthood: Why We Should Think before We Talk about Our Kids Online." Selected as one of WIRED's must-read books for fall 2019 and featured in The New Yorker, it is available for purchase now.
By Claire Krelitz