90 Minutes - Director: Orlando von Einsiedel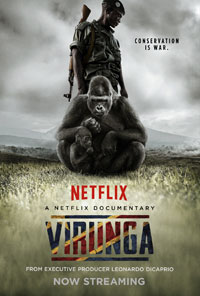 The first scenes of Virunga are of a funeral of a man who turns out to have been a ranger in Virunga Naitonal Park, and so we know this is not going to be a simple nature documentary. Virunga is the oldest park in Africa and home to one of the last populations of mountain gorillas, but it is also right in the middle of Africa's bloodiest civil conflict that has cost some 5 million lives since the 1990's. As the mourners fondly lay the man to rest in this beautiful green mountainscape, we sense that more trouble is to come – for apes and men.
Virunga is actually two overlapping stories – the first story which filmmaker Orlando von Einsiedel set out to make was about the dwindling population of rare mountain gorillas in Virunga and the struggle of the brave rangers to protect these animals from poachers. But while he is filming von Einsiedel gets dragged into the even larger story of the struggle for survival of the Congolese people as a whole, as the M23 rebel group lays waste to the area inside and around the park, pushing back the Congolese army and the UN peacekeeping force. And at the same time an unscrupulous foreign oil company flies in to the region to try to bribe its way into drilling contracts inside the pristine national park, further complicating the armed conflict.
Because of the poachers there are a number of orphaned gorillas. The rangers keep them in a sanctuary and essentially act as their parents until they are robust enough to be returned to the wild. We see them playing with the gorillas like children – even tickling them under the arms provoking uncontrolled giggling that shows just how close these apes are to humans. But as the sounds of shelling and gunfire draw inexorably closer the gorillas become more and more nervous, and their health suffers. At the same time the surrounding human population is fleeing in panic ahead of the rebel onslaught, making the rangers feel very exposed. Von Einsiedel's brave camerawork shows how the warden, Emmanuel de Merode, a Belgian raised in Kenya, calmly persuades his rangers to stay and protect the gorillas, and in a larger sense to protect the future of Virunga National Park itself, rather than abandon it to ethnic rebels, mercenaries and unscrupulous oil companies and mining consortia seeking to carve up the area for short term monetary gain.
The film's majestic panoramas and exquisite images of wildlife in the park make an irresistible case for why Virunga should be protected way into the future, after it came so close to being destroyed. In a Q&A after the screening, von Einsiedel noted that 140 Congolese rangers have died protecting Virunga National Park in the past 20 years. "You meet people in life who are passionate about things, but it is very rate to meet people who will die for a cause – I was incredibly lucky to meet these rangers."