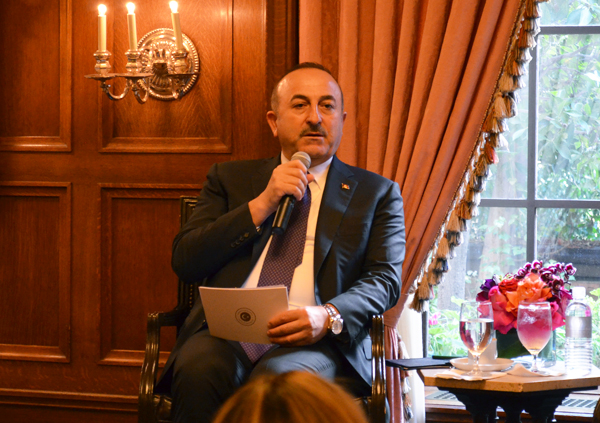 Mevlüt Çavuşoğlu addresses a LAWAC roundtable at the California Club on January 12, 2018.
Turkey's Foreign Minister Mevlüt Çavuşoğlu defended his country's crackdown on perceived opponents after the July 2016 coup attempt, saying, "We had to take measures because we didn't feel safe." The US and others have been critical of the mass arrests and dismissals of some 100,000 Turks after a dissident group of army officers tried to kill President Erdogan and take power. "We had an attempted coup in 2016 – that is not a joke – they killed 240 people overnight..Americans don't understand," Çavuşoğlu told a LAWAC Roundtable lunch for Board and International Circle members on Friday, January 12th.
He said that he had to dismiss 25% of his diplomats working at the Foreign Ministry for their alleged links to the coup plotters. "Am I happy about this? No, but I had no choice – how can I work with them now, how can I share secrets of state with them?" President Erdogan has accused the US-based Turkish cleric Fethullah Gülen and his loyalists of masterminding the coup, and have demanded the US extradite Gülen to Turkey. So far the US has demurred, saying it has not seen concrete evidence proving Gülen's connection to the plot. This issue has "poisoned" US-Turkish relations, said Çavuşoğlu, along with the US support for Kurdish guerilla fighters in Syria whom the US has used to counter ISIS, but whom Ankara sees as anti-Turkish terrorists.
Notwithstanding these two divisive issues, Çavuşoğlu said US-Turkish relations were close in the security field, where both countries are keen to stop an outflow of foreign fighters from ISIS as their caliphate has collapsed in Syria and Iraq. He said that Turkey, the main entry point for ISIS recruits, has captured foreign fighters from 125 countries, some of them not even Muslims. "We have deported more than 5,000 foreign fighters, 1,500 Daesh (ISIS) fighters are in jail in Turkey, and 55,000 foreign fighters are on a no-entry list."
He said the situation on the ground in Syria was improving, but said the road to peace was still a long one, complicated by the involvement of Russia in the war. "Why is Russia there? They saw the coalition countries did nothing after the "red line" on chemical weapons, so they marched in!" Ultimately, he said that Syria must have a democratic, secular system because it is a multicultural, multi-religious country. "I don't see any future for Assad in the country, as he cannot unite Syrians, they won't support him after he has killed so many."
Çavuşoğlu said Iran was "one of the most difficult countries in the world" to deal with, because of their tough negotiating tactics. Nonetheless he said that although they are "a difficult neighbor, it is not a good idea to corner or isolate them… we need better engagement." He said that the recent protests showed a divide between the people and their leaders, but said US and Israeli statements in favor of the protests were counter-productive. "Trump and Netanyahu helped the Iranian administration by expressing support for the protesters – not a smart move."