162 Minutes - Director:
Maren Ade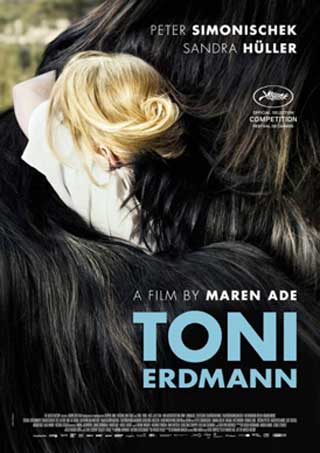 Nominated for Best Foreign Language Film (Germany), Toni Erdmann is a black comedy about a father trying to rekindle a relationship with his estranged daughter. While the film has more than a few laugh-out-loud moments, underneath is an awkward and often sad story of how people use comedy to cover up deeper issues.
Winfried (Peter Simonischek) is a teacher with a penchant for impersonating zany characters. He opens the film by impersonating his non-existent and dangerous brother for a courier, and then attends a party thrown by his ex-wife dressed as if he stepped out of a horror movie. A well-intentioned visit to his serious, workaholic daughter Ines (Sandra Huller) doesn't go as planned and he resorts to following her to work using his alter ego 'Toni Erdmann', a gregarious life coach that inserts himself into Ines' workplace. At first unamused, Winfried's wacky humor eventually breaks through to Ines and we see a broken relationship begin to mend.
Toni Erdmann swept the European Film Awards and has won or been nominated for over 40 film awards. It was directed by Maren Ade, who cited the French film Mon père, ce héros, and the many alter egos of Andy Kaufman as inspiration for the film. In an interview with The Guardian Ade said, "For me it's more a film about humour – the comedy comes with the father. All he does, he does out of a big desperation. While shooting, I had the feeling this was a very sad film. I said to myself, this family topic is a heavy one, it's melancholic because it's so static, you cannot change where you come from. I decided not to focus so much on the comedy side." Toni Erdmann is now in theaters.