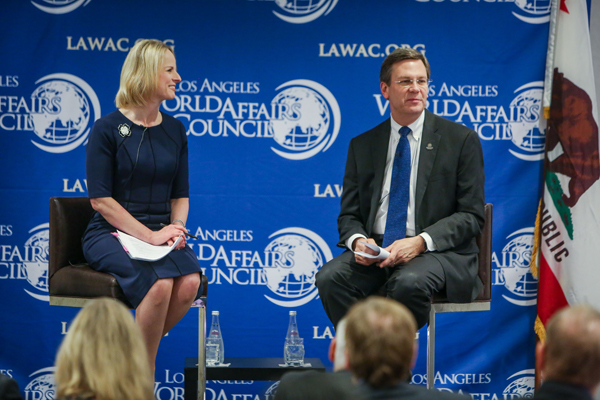 Jennifer Sirangelo and Jim Collins discuss the future of agriculture and food.
"We believe in fair trade and not using food as a weapon," said Jim Collins, CEO of Corteva, DowDupont's agricultural division, in conversation with Jennifer Sirangelo, President and CEO of 4-H Council. Collins added that Corteva respects "what the US government is doing today with regards to protecting intellectual property but not food." He explained that soybean exports to the US have decreased significantly, acknowledging that there is a generation of American farmers who will be at negative growth for the next few years. Collins added that an agricultural company must put farmers at the center. For Corteva, farmers are the "North Star" that guide the company.
Collins said that agribusiness has a huge role to play in responding to climate change. "What you haven't heard agricultural companies talk about is creating products that are more climate friendly, products that lower the amount of water needed to produce rice, where crops can help take CO2 out of the air and put it into the soil. We want crops to be part of the solution."
Compared to the past, farmers assess crops very differently due to major advances in technology. Measuring crops would take days because it would require individuals to go out into the fields to evaluate the plants. "Today, in 25 minutes we know how many kernels are on one ear of corn from a drone. It yields tremendous amount of data that we then need to analyze." Technological advances like this are changing the industry, and creating new job opportunities.
"People just don't think about agriculture as a job prospect, but it may not look like what you think." Collins rattled off a list of areas that businesses like Corteva are hiring for, including engineers, data analysts and drone pilots. Farming also doesn't look like what you might expect when it comes to gender. "Women outnumber men by a factor of 2 to 1 globally in farming," Collins said, to the surprise of the audience. There are 50 thousand agriculture jobs every year and only 30 thousand graduates who are going into the industry. "We need to help inspire and move people to fill these 20 thousand open jobs."
When asked how LAWAC members can contribute to improving food and agriculture issues, Collins' first piece of advice was to continue attending events like this one. He also encouraged attendees to research the facts so that they can use their voice and support government policies in food science. Sirangelo advised the audience to support organizations that collect unused food from restaurants and deliver it to shelters, which reduces food waste and helps feed the hungry. "We could cut our carbon footprints in half just by reducing food waste. Almost half of the food we produce goes to waste by the time it reaches its destination."
Unfortunately, due to flight delays Jackie Joyner-Kersee was unable to join the panel discussion as planned.