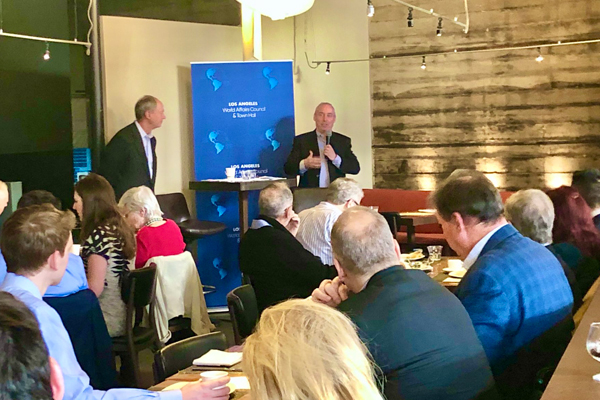 Dan Schnur introduces former US Ambassador to Germany John Emerson
On January 9th, 2020 the Los Angeles World Affairs Council & Town Hall presented the third Kal Eisenberg Breakfast, an ongoing series that tackles the most critical issues leading up to the 2020 election. Dan Schnur, a dynamic politics professor and host of the series, welcomed former US Ambassador to Germany, John Emerson, to examine how foreign policy relates to the upcoming 2020 election.
Schnur began by explaining that his initial intent for the program was to discuss how little attention issues of foreign policy and national security were getting on the 2020 campaign trail. However, just days before the event, news broke that President Trump authorized the killing of Iranian General Qasem Soleimani. The two panelists kicked off the event with a nuanced discussion of the previous week's breaking news, weaving in an analysis of the current Administration's policy towards Iran and the U.S.'s larger foreign policy objectives.
Bringing the conversation to the 2020 Democratic campaign, the two panelists assessed the nominees' responses to the killing of Soleimani. Ambassador Emerson traced how different candidates' positions map onto long-standing ideological distinctions within the Democratic Party. Schnur summarized a central ideological distinction between candidates: those who articulate a globalist/internationalist approach to foreign policy, and those who articulate an isolationist or inward-facing approach. Interestingly, both panelists believe an internationalist approach to foreign policy has seen declining popularity within the Republican and Democratic parties. Schnur argued: "The strains of isolationism that we've seen throughout US history are re-surging in both parties." They also noted this inward-facing dynamic is not unique to the US and is seen in many countries across the globe.
From here, the conversation segued into a discussion on the various international trade philosophies guiding different countries. Countries enter the global stage with drastically different approaches, and it is key to understand what these larger frameworks are. Thus, a central chord uniting the discussion is, in order to compare the foreign policy objectives of different presidential candidates, political parties, or countries – it is necessary to understand the overarching ideological framework guiding these tactical responses on the ground.
Answering an audience question about what voters need to hear from 2020 candidates about foreign policy, both panelists agreed we must hear them articulate their broader view on how the U.S. should act globally. With the ever-changing and fast-paced nature of international affairs, we must assess the larger goals that motivate politicians' tactical responses on the ground.