76 Minutes - Director: Kevin Macdonald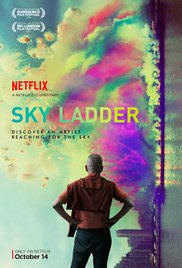 The visually spectacular documentary film Sky Ladder: The Art of Cai Guo-Qiang traces the life and art of Chinese-born, New York-based artist Cai Guo-Qiang who is famous around the world for his sensational signature pyrotechnic events. The film culminates with a stunning and literally explosive "painting" across the sky that seems to link humanity to some greater dimension as yet barely imagined. "I am exploring a connection to an unseen power," said Cai of his work.
The film follows Cai as he created an installation piece in 1993 that set off explosions along six miles of the Great Wall. He conceived the dazzling display of fireworks during the 2008 Beijing Olympics opening ceremony. He put on the fireworks show at the 2014 APEC leaders' meeting, despite concerns about "mixing art and politics", that was attended by Presidents Obama, Xi Jinping, and Putin.
His projects are ambitious and massive in scale, but it is his childhood dream that has been his most challenging project yet. Sky Ladder was an idea Cai imagined while growing up during the Cultural Revolution and most of the film focuses on his quest to achieve it. Cai's dream to extend a ladder of fire high into the sky has eluded him for decades. He attempted three times and failed: in 1994 in Bath, England his attempt was cancelled due to rainy weather; in 2001 in Shanghai he was stopped because of security concerns after 9/11; in 2012 in Los Angeles the launch was called off due to the risk of wildfires.
For his fourth and final attempt, Cai's team returned to China where they "don't need permission to light fireworks" and could just "light it up and run." Cai set up Sky Ladder in the city where he was born - Quanzhou in Fujian Province, a place he calls "a small village with huge potential." This attempt, he said, was "for himself and his 100 year old grandmother."
After a disappointing rain delay, a large white balloon filled with helium ascended into the sky with a 545 yard ladder trailing below. Cai's grandmother watched by video phone. His team counted down and as soon as Cai lit the fuse, flames raced up the ladder. The piece burned for about two and a half minutes as Cai's team cheered and he realized his 21 year dream.
Sky Ladder: The Art of Cai Guo-Qiang was directed by Oscar winner Kevin Macdonald and was picked up at the Sundance Film Festival this year. Sky Ladder will launch on Netflix on October 14th.