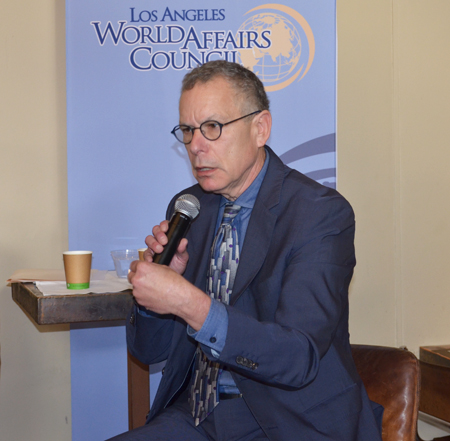 James Gelvin discusses Saudi Arabia at a LAWAC breakfast
The Crown Prince of Saudi Arabia, Mohammad bin Salman, has recently begun to assert his power dramatically on two stages at the same time – domestically and in a new foreign policy – but is risking overreach in both areas, according to James Gelvin. Speaking to a LAWAC Global Café breakfast on November 10th, Gelvin, who is Professor of Modern Middle Eastern History at UCLA, said that "there is an incredible potential for overreach" in the actions of the 32 year-old Crown Prince, whose father King Salman only appointed him as his successor in June of this year.
Over the past week at the direction of Mohammad bin Salman (often referred to as "MBS") more than 200 princes, businessmen and government officials have been arrested in Saudi Arabia, largely on charges of corruption, and confined in the Ritz Carlton Hotel in Riyadh. Meanwhile, Saudi Arabia's military has been conducting a brutal war in Yemen causing substantial civilian casualties and widespread destruction, and prosecuting a blockade on the small Gulf state of Qatar. Furthermore the Saudis appeared to have engineered the resignation last weekend of the Lebanese prime minister, Saad Hariri, to put pressure on the Lebanese government which is partly controlled by Hezbollah, although it is unclear what follow-through, if any, is planned against Hezbollah itself.
"The problem is that this guy (MBS) is incredibly impulsive. He doesn't think things through. He has created more problems than he has solved," said Gelvin.
Domestically, Gelvin said, MBS is consolidating his own power within the extended royal family, which has some 2,000 princes, many of them living on very rich stipends from the government. At the same time he is taking power away from the religious establishment. "This is a Middle Eastern style of ruling – 'coup-proofing' – you put members of your immediate family in charge of key parts of the security establishment and the government." Gelvin said this was the model followed by Syria, Iraq and Bahrain, and it worked – even Saddam Hussein resisted internal pressures, and was only overthrown by an overpowering outside force. But Gelvin said that because the running of government is so opaque in Saudi Arabia, it was not yet clear if MBS had indeed moved enough of his family members into positions of power to resist any backlash or attempt to challenge his power.
Gelvin warned that "Vision 2030", an economic reform plan that aims to shift Saudi from an almost exclusive reliance on oil income to a more broadly-based modern economy would face serious challenges. One of the difficulties will be paying for all the new infrastructure that is envisaged, given the continuing low level of oil prices. "80% of the Saudi work force is employed by the government – you can't change that overnight."
"We can't be distracted by little sparkles that Saudis put in our eye. That women can now drive... That now women can now enter sports stadiums," said Gelvin. "I will believe the crown prince is a reformer not when women can drive but when political prisoners are released."
On foreign policy, Gelvin said that Saudi Arabia is being "unusually aggressive," after years of following the US lead in the Middle East, and has gone on the offensive, instead of staying defensive. "They are getting dangerously close to the edge." In Yemen he described the Saudi intervention as a series of "war crimes", where millions now face starvation, and "medieval diseases, like cholera, are spreading." The blockade of Qatar, supposedly to punish them for supporting terrorism and for being too close to Iran, has had the opposite effect – with nowhere else to turn, the Qataris are now drawing closer than ever to Iran, from where they now import much of their food.
Gelvin cited three reasons for the more aggressive turn in Saudi foreign policy: the low oil price, the aftershocks of the Arab Spring which made the Saudis concerned about the stability of their own rule, and the Middle East policy of the Obama administration, "which was attempting to bring Iran into the fold."
Since the change of administration in Washington, Gelvin claimed that much of what Saudi Arabia is doing has been supported by the US – including the behind-the-scenes contacts between the Saudis and the Israelis. "Jared Kushner thinks he can use the prospect of opening diplomatic relations with the Gulf States as bait for the Israelis to do a deal with the Palestinians." But he said that the Israelis under their current leadership are not interested. "They say 'why should we?'." Instead the Israelis are offering the Saudis "strategic depth" against Iran, which is a common fear of both countries.
As to whether there would be any attempt to challenge Mohammed bin Salman, Gelvin said that was unlikely. "He has taken in anyone who might have had coup potential."