118 Minutes - Directors: Olivier Nakache, Eric Toledano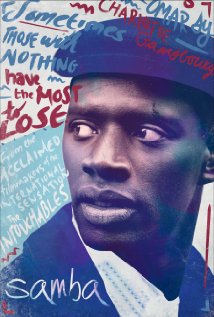 Samba is a cleverly constructed film that makes you laugh at the absurdities of what is otherwise the very sad reality of illegal immigrants seeking a better life in a western country that is running out of empathy with their fate. Europe is today facing an unprecedented wave of migrants from the Middle East and Africa, some driven by war and persecution, some simply seeking improved economic opportunities - and European governments are struggling to find ways to deal with them. This is the backdrop for Samba, whose eponymous main character, played by Omar Sy, is a Senegalese dishwasher. He has been in Paris for 10 years without legal papers, trying to learn to become a chef, but one day he is arrested and served a deportation order. His last hope is an appeal to the court, overseen by legal volunteer Alice (Charlotte Gainsbourg), who seems uniquely immune to the widespread cynicism facing the Middle Eastern and African immigrants. Herself an outcast - she is on hiatus after she "burnt out" in her 15-year long corporate career - Alice becomes attached to Samba, first professionally and then, unsurprisingly, romantically. She tries to help Samba with his legal appeal as he seeks to navigate the nether world of fake IDs, unscrupulous employers of short-term labor and the ever-present threat of the immigration police.
Along the way Samba teams up with the charming Walid (Tahar Rahim), who plays an Algerian who imitates a Brazilian because he thinks that helps him both in getting work and picking up girls. His partial strip tease in a window-cleaner's basket outside the window of an office full of ogling girls is hilarious and symbolic - illegal Algerian and Senegalese workers outside the glass, dangling perilously with no safety ropes as the French girls look on, unable to even hear them through the window.
The film ends with what Sy called in a Q&A afterwards "a message of hope," although for many of the characters who pass through the migration mill there seems to be precious little hope. "The movie is dark enough," said Sy, who made his mark in the 2012 film The Intouchables. Sy is of Senegalese descent. His parents immigrated legally to France in the 1960s, so he had to devote considerable time to getting to know illegal immigrants and learning to speak with a Senegalese French accent to get his role down. This included spending time in a trash recycling plant - "nobody there was French, they were all foreigners." The French won't do this dirty work, so they give it to immigrants - "and yet they don't want the immigrants in their country - it is paradoxical!"
The overall aim of the film is to humanize the foreigners who have made their way to France. It is left to others to decide how to handle immigration policy, although the film makes no secret of where its sympathies would lie. A friendly official at an employment office turns a blind eye to an obviously fake ID - even offers advice with a twinkle in her eye on how Samba can find a better one. These are the scenes that bring warmth to the otherwise bleak world Samba inhabits. Sy called the film a drama with a little bit of humor - "the directors (Eric Toledano and Olivier Nakche) put humor in the right place - when you laugh about something, you will remember it." Particularly when you next see window-cleaners hanging outside a 10-story office block...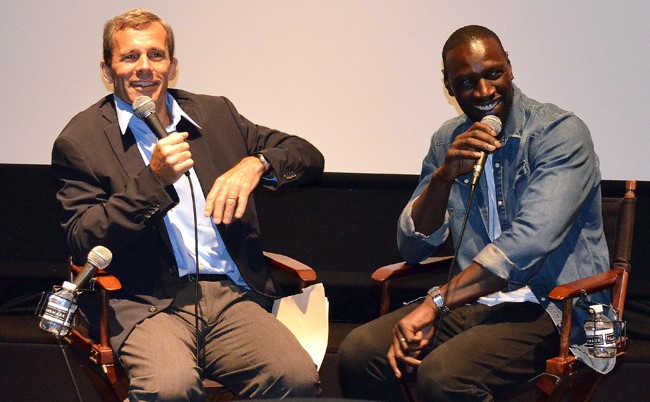 Terry McCarthy and actor Omar Sy