85 Minutes - Director: Gabe Polsky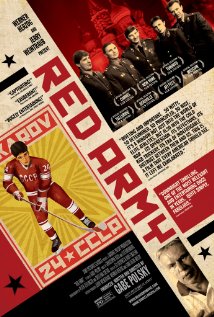 Red Army is a masterful documentary film about the Soviet Union's premier ice hockey team, founded by Stalin to showcase the superiority of communism, elevated to the status of national heroes by relentless training and discipline, winners of Olympic golds in 1984 and 1988 and widely regarded as the best hockey team ever. Until they weren't any more - as they and the entire communist system came crashing down in 1991 and the best Russian hockey players - foremost among them Viacheslav Fetisov, the focus of this documentary, fled the chaos of the new normal in Moscow for the richly remunerative NHL teams in the US and Canada.
Filmmaker Gabe Polsky, whose parents were born in the former USSR, uses rare Russian archival material and contemporary interviews to chart the ups and downs of the career of Fetisov and at the same time to tell the story of the dreams and torments of the Soviet system and its ultimate dissolution, sport mirroring life as it has the habit of doing. Fetisov gives laconic interviews to Polsky, who provokes him just enough to get underneath the cold Russian exterior and reveal his love of the game and of his country, with all its shortcomings. After a successful second career in the US, Fetisov returns to Russia in 2002 on Putin's invitation to become the country's sports minister - he tells Polsky that Russia now has "no heroes, no structure, no system" - just a lot of people running around trying to enrich themselves. "We lost our soul," he says, as he sets out to help rebuild the country's youth sports system.
But for a time Fetisov and his teammates were the greatest in the world - taking inspiration from those other Russian passions, chess and ballet, and ironically playing their most innovative hockey when their society was at its most oppressed. "The only freedom they had was on the ice," said Polsky in a Q&A after the screening. Polsky took the film to the Moscow film festival where it played in the 3,000-seat Pushkin Theater - he was initially worried the Russians would take offense at an American-made film about one of their national icons, but in fact his film received a 15 minute standing ovation from the audience. "The Russians actually lived through this - it meant a lot to them."