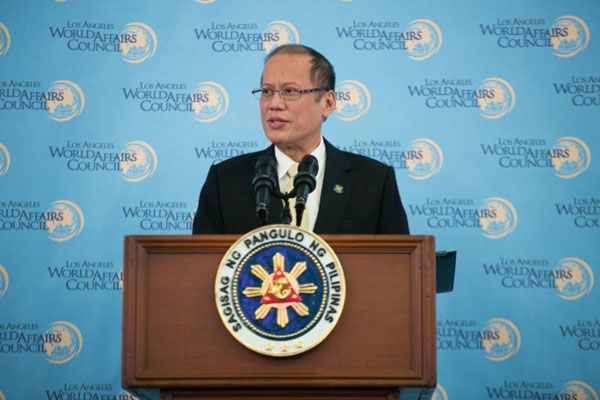 Philippines President Benigno S. Aquino III
The Philippines and Security in East Asia
Philippines President Benigno S. Aquino III said his country is facing "very aggressive action by their neighbor to the west and north: the world's second largest economy and a nuclear power." He spoke at a Los Angeles World Affairs Council dinner on Tuesday, February 16th and said "prosperity cannot happen in instability" and that he hopes China will respect international law regarding the current arbitration tribunal case brought on by the Philippines against China on competing claims for sovereignty over islands in the South China Sea. He also trumpeted the economic achievements of his term including rapid growth and the "lowest unemployment rate in a decade."
"Let me make it clear," Aquino said, "we have zero ambitions in terms of arming ourselves with our own weapons of mass destruction. We have no plans of trying to come up with some sort of deterrence against the military might of that super power," he added referring to China. "In the classic argument of guns vs butter, we would rather spend our limited resources on the butter side of that equation," Aquino said. "Yet like all nations, we need to defend our rights." Aquino aims to resolve the South China Sea sovereignty issues "both legally and peacefully" as in law, everybody is equal. "My nation has resolved to accept whatever decision the arbitral tribunal makes and we are hopeful that our neighbor - who has constantly reiterated their respect for international law - will, in time, do the same."
Aquino made the point that both countries rely on each other economically and that "prosperity cannot happen in instability." He said that "In 2011, Philippine companies had invested something to the tune of $2.5 billion in China's economy. China invested $600 million in the Philippine economy...They sent us about 200,000 tourists. Another point in time we sent them 800,000 tourists... You have a very good situation no matter how you look at it." He said that disputes in this body of water - where at least 40% of world commerce traverses - exist because of "differing views as to who is entitled to what." Aquino warned that, "It is far too dangerous to be caught up in traditional ideas of victory and defeat. In our modern world, it is becoming more and more evident that the only true victory is the preservation and enhancement of global harmony."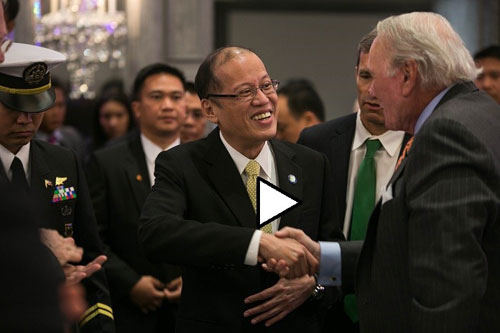 Click to hear more from President Aquino
Aquino is in town on the heels of attending a summit organized by President Obama with leaders from the Association of South East Asian Nations (ASEAN) at Sunnylands in Palm Springs. As the US is attempting to boost its relations with South East Asian nations with China's rise, discussions at the summit covered a broad range of issues - from maritime security cooperation to technological entrepreneurship - and resulted in a 17-point joint statement. When asked if he would bring home good news, Aquino said "yes."
Aquino is the son of Benigno Aquino Jr, the former leader of the opposition to President Ferdinand Marcos, and Corazon Aquino, the 11th President of the Philippines. Benigno Aquino Jr, who was assassinated on the tarmac of Manila airport in 1983 on his return to the Philippines from exile in the US, gave a speech to the Los Angeles World Affairs Council in 1981. "I am told that one of his most prominent speeches was delivered here in this very city where he talked about the many ways in which the dictator had been eroding our democracy and freedom," said Aquino. "My father once said, 'pity the person who follows Mr. Marcos - he will be expected to solve all of the problems created in practically no time.' He never imagined it would be on my mother's shoulders to try and solve the conundrum," said Aquino. "Today, I return to share how we are harvesting the fruits of sacrifice - that of my parents, but more so that of millions of Filipinos who stood for freedom in those dark days."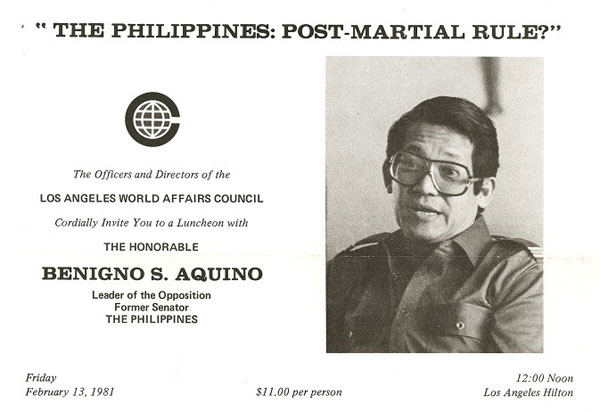 Benigno Aquino Jr Event with LAWAC in 1981
Aquino has served as the 15th President of the Philippines since 2010. He highlighted the results of his six-year term that ends in June including: overhauling the state budget, "bottom up budgeting," fighting corruption by bringing on 784 cases of corruption among officials, upgrading the country's education system, taking on a massive expansion to the health care system, achieving the "lowest unemployment rate in a decade," and "experiencing the fastest 6 year average economic growth since the 1970s." Aquino said the Philippines has risen from the World Economic Forum's ranking of 85th in 2010, to 47th in 2015. "In just a short time we have shed the title of 'sick man of Asia' and have been referred to as 'Asia's bright spot - Asia's Rising Tiger.'"