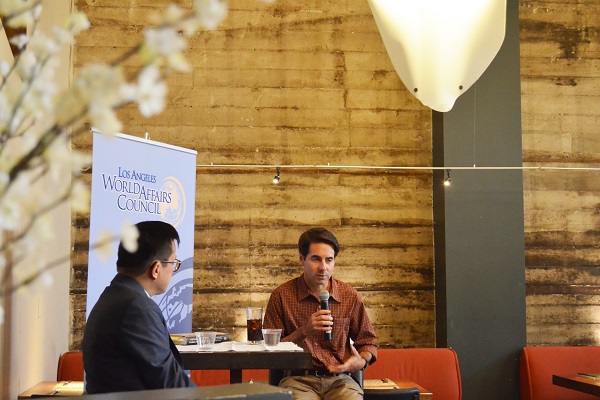 Peter Hessler (R) discussing his new book on his time in Egypt during the Arab Spring with LA Times Deputy Managing Editor Sewell Chan
The Los Angeles World Affairs Council hosted Mr. Peter Hessler for a breakfast talk on Monday, May 13 to discuss the state of affairs in Egypt since the Arab Spring uprising and Tahrir Square protests in Cairo in 2011.
Mr. Hessler had been living in China with his family, reporting and writing from across the country for over ten years. In 2010, he and his wife, the journalist Leslie T. Chang, decided they'd move to the Middle East in response to the love for ancient cultures they both developed while living in China. In December 2010, the Arab Revolution began in Tunisia, and by spring 2011, it had spread to Egypt, where Hessler and Chang were slated to move with their twin daughters. From Cairo, Hessler and his family watched the revolution and ensuing coups from the front lines.
The Tahrir Square protest was, in Hessler's words, the result of a rising social and political movement and the collapse of a weak state. Due to the groundswell of political participation, and the grassroots nature of the revolution, he said the "anticipation that something was going to happen, and the participation in politics by the protesters" led to the movement outrunning the political institutions Egypt had built. In short, the institutions it sought to change weren't strong enough to handle the changes the protesters wanted.
Additionally, Hessler said he didn't really worry about terrorism while in country, as, according to him, there are more Dutch fighting for ISIS than there are Egyptians currently. This stems from the country's dealings with extremism during the 1960s – Egyptians realized that terrorism is a help to no one, and as such it isn't a problem within the country, especially in the major metropolitan areas. Because there is no real threat of terrorism or violent insurgencies, the Egyptians were quick to vaguely blame "outsiders" for the violence that did occur. They did not blame foreigners like him or the Chinese lingerie sellers living in Egypt, because Egyptians are, in his words, too friendly to blame or even be suspicious of those they knew, even if they are foreigners.
Hessler also spoke to his interpretation of the Muslim Brotherhood and their rise, as well as their role in Egyptian society. The Muslim Brotherhood was formed as a response to British colonial rule, had been outlawed in Egypt for much of its existence, and as such was not made up of politicians or political thinkers, but of doctors, engineers, tradesmen, and other professionals. Because of its outlaw status and the subsequent traumas its members and leaders experienced – they were often arrested, beaten, and even tortured. In short, party leadership refused to trust anyone outside the party, would not form alliances with other parties, and was quick to cast blame on others for their own failings or misgivings. With all of this going on, by the end of 2012 Hessler told us he "felt they were close to some sort of coup" to unseat the Muslim Brotherhood government under Mohamed Morsi's leadership. The coup d'état came in July 2013, led by General Abdel Fattah el-Sisi, who is now President Abdel Fattah el-Sisi.
Through all of this political turmoil, however, Hessler said he and his wife had an incredible experience in Cairo. He said that, though there was this pervasive intensity of politics, the protests, and the coup, there was also a calm within the country, especially related to the rich history of the country and the omnipresent archaeological digs. He and his family sought refuge from the political energy exploring these sites and generally engaging with the locals as often as they could.