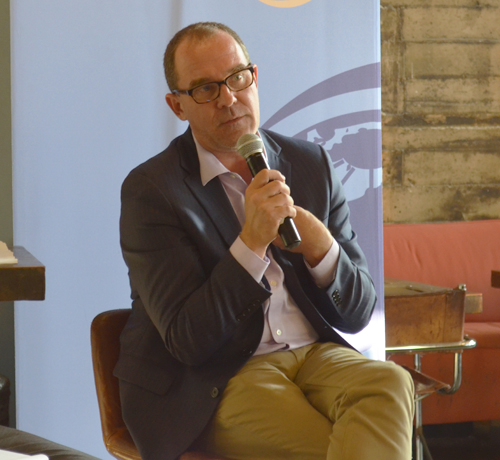 Peter Bouckaert at a LAWAC breakfast
Even after 20 years at Human Rights Watch (HRW), Peter Bouckaert says that the ongoing persecution of the Rohingya minority in northern Myanmar (Burma) represents some of the worst human rights abuses he has ever seen. Bouckaert, who is the Emergency Director for the New York-based HRW, had just returned from the Bangladesh-Myanmar border when he addressed a LAWAC Global Café Breakfast meeting on November 14. The Rohingya are a Muslim minority who have been subjected to a violent campaign to push them out of Rakhine State in Myanmar by the military. Bouckaert described how in one area thousands of Rohingya villages had been trapped by a river, the men taken off and executed, the women systematically raped and their huts all burnt down. "It is very unusual to see these kind of atrocities carried out by soldiers in uniform – it is evidence of a campaign of hatred against the Rohingya, the world's most persecuted minority."
Bouckaert talked about human rights abuses across Asia, the Middle East and Africa, but he also pointed to the discriminatory treatment of migrants in Europe and the US. "The rise of nationalist leaders and demagogues all over the world who are rejecting globalizing and liberalizing norms is putting us into dangerous territory – it is very important in these dark times to assert human rights."
Some 600,000 Rohingya have fled their homes in what Bouckaert calls "one of the fastest-moving ethnic cleansings ever." Only 100,000 are left inside Myanmar – and those who have fled across the border face another crisis, as Bangladesh is totally unprepared to deal with them. In Myanmar, also known as Burma, Bouckaert says that while the military is conducting the atrocities, the civilian leader and Nobel Prize winner Aung San Suu Kyi cannot go without blame for not at least speaking out. "She is a bird in a gilded cage. It is a mistake to see her as a human rights icon – it is a role she has always objected to, as something imposed upon her by the outside." Bouckaert says there are two parallel struggles going on inside Burma which Aung San Suu Kyi has got tangled up in: the struggle for democracy between the dominant military and her own civilian political party, the National League for Democracy (NLD). This is essentially "a struggle within the ethnic Burman elites", who are mostly Buddhist. At the same time, there is an ongoing struggle between the ethnic Burmans and the many minorities that live around Burma's borders, many of whom are Christian – or in the case of the Rohingya, Muslim. "Aung San Suu Kyi could have brought together all these diverse ethnic groups, but she hasn't," said Bouckaert.
When asked about the refugee crisis in Europe, which has seen hundreds of thousands of people from the Middle East and North Africa seek refuge in the EU, Bouckaert said "the real refugee crisis is in Lebanon, Jordan and Turkey, in Kenya with the Somalis, in South Africa with all the Zimbabweans." He pointed out that 25 percent of the Lebanese population are Syrian refugees. "It is about European countries and the US and Australia refusing to take their part of the burden." Today some 65 million people are displaced from their homes – the largest number worldwide since World War II. And the challenges are going to grow, as a population bubble in Africa and ongoing unrest in the Middle East will contribute to more migration. "We cannot avoid the fact that we are going to continue to see mass migration."
Bouckaert and his fellow field researchers at HRW have increasingly been filling in for regular media outlets who no longer have the foreign news budgets to send reporters to cover every crisis around the world. "Resources devoted to foreign coverage have collapsed," he said, adding that for a recent report on the Rohingya crisis the New York Times reporter was given just three days in the field – much of the data in his story was supplied by the HRW researchers who had been on the ground in the area for several months. But he was very quick to point out that HRW cannot take over the role of journalists, who should be objective reporters. "We are a research and an advocacy organization." They collect facts and compile reports, which they give to governments in a calculated attempt to affect policy. But precisely because "countries can go to war on research that we conduct," Bouckaert said it is vitally important that they get their facts right. In 40 years they have not had to retract any of their reports – something the organization is very proud of. "We try to achieve our goals not by being alarmist or overstating things." Sadly, given the atrocities being committed around the world, there is little need to overstate anything – the facts are bad enough.