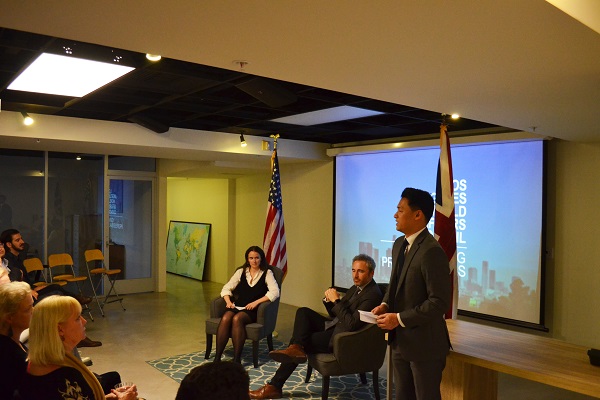 Chair of the LAWAC YP Board Jerome Hsiang (R) introduces the Honorable Michael Howells, and moderator Cassie Hermiston-Boyd (L), also a YP Board member
Note: This event was held before Theresa May resigned as Prime Minister, and before the most recent European Parliament elections.
On May 15th, the Young Professionals of the Los Angeles World Affairs Council hosted Consul General Michael Howells of the United Kingdom to speak on the complex nature of Brexit, its impact on the United Kingdom and Ireland's border, and what it means for Britain's future.
Multiple exit packages have been proposed since 2016, but the British Parliament has yet to determine which one best meets their demands and the perceived desires of the electorate. Furthermore, Prime Minister Theresa May hasn't been able to win a majority support in parliament for the divorce proposal she negotiated with the European Union. Although Parliament already rejected her proposed deal three times, the bill will now be voted on a fourth time on June 3. Though it has been proposed, the likelihood of a second referendum actually happening is slim to none; only the centrist Liberal Democrat party supports it, with both major parties, Labour and Conservative, opposed.
The discussion with Consul General Howells touched on why Britons voted to leave the European Union, with the consensus in the discussion being that it was for a variety of reasons, mainly that many people worried about globalization's effects on their lives, wages and income inequality, and immigration. Seemingly, others were guided by their view of the United Kingdom's place in the world and how states should relate with each other. Contrary to the media's devastating coverage of Brexit, Consul General Howell reminded the council that the United Kingdom remains a deeply important country for foreign direct investment coming from companies and individuals around the world. Further, the attendees and the Consul General discussed ways Britain stands to potentially benefit from Brexit specifically related to trade relations more specifically tailored to the U.K. economy. Additionally, and particularly in regards to the financial services market, London remains a major hub for companies and investors in the international economy.
Having overseen British foreign policy towards Iran from 2009-2013, Consul General Howells also briefly touched on the Joint Comprehensive Plan of Action -- the Iran Nuclear Deal -- and the United States' recent withdrawal from the agreement. He acknowledged that many criticisms of the deal are valid, yet remained optimistic about the negotiated deal's ability to achieve the goals it had originally set out. The Consul General noted what some of these goals are, and described why European countries remain in the deal while Washington has decided to withdraw.
The Young Professionals thank the Consul General for spending an evening discussing Brexit as well as taking a few moments to speak on the Joint Comprehensive Plan of Action.