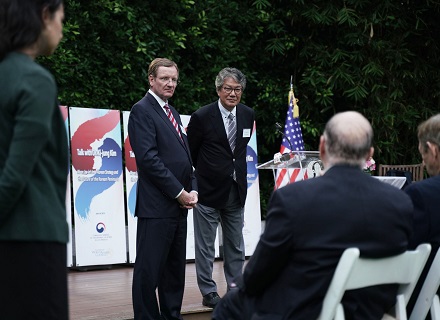 Dr. Ki-Jung Kim fielding audience questions next to LAWAC Executive VP Alexander Messman
In conjunction with the Consulate General of the Republic of Korea in Los Angeles, the Los Angeles World Affairs Council had the honor to host Dr. Ki-Jung Kim for a talk on the future of the Korean Peninsula. Dr. Kim, advisor on foreign policy and national security to South Korean President Moon Jae-In's campaign for president in 2017.
Dr. Kim spoke on the Moon Administration's policies towards North Korea and Kim Jong-Un, how these policies came to be, what they aim to achieve, and why they are needed. Dr. Kim says that, today, the Moon Administration is working to change the status quo on how the rest of the world interacts with North Korea and other rogue states, how to achieve a lasting peace, and how to conduct international relations. He believes that we are "standing in front of a paradigm change" and looks forward to bringing the Korean Peninsula from a state of war to a state of peace.
With that being said, Dr. Ki-Jung Kim, known as President Moon's "foreign policy brain," is very clear about the challenges Kim Jong-Un and North Korea present in the effort to achieve peace. North Korea's distrust of the world, reciprocated by most of the world, makes it hard to actually move forward on any real negotiations. Moving forward to quickly with détente will allow North Korea to continue its brutal behavior towards its citizens, while going too slowly will give the impression of being stuck in the mud. And in either case, nuclear weapons loom large over the negotiations, and the threat of war threatens to derail any meaningful steps taken, no matter the speed of the steps taken forward. Trust – or distrust – and managing the speed of building towards peace Dr. Kim's main concerns when advising President Moon.
Dr. Kim spoke of "one nation, two states" when describing the Korean Peninsula – one people, yet under two different governments. He hopes – as many do – that one day he will see peace on the Korean Peninsula, and that those who have loved ones on either side of the border will be able to reunite with one another, and bring the Korean people together once again.
This event was graciously hosted by the Republic of Korea Consulate General in Los Angeles, and took place at the Korean Consular Residence. Events like these are open to the Board of Directors of the Los Angeles World Affairs Council. If you would like to have access this kind of event, please call Tracy Navichoque at (424) 258 6160 to inquire about joining the Board of Directors.