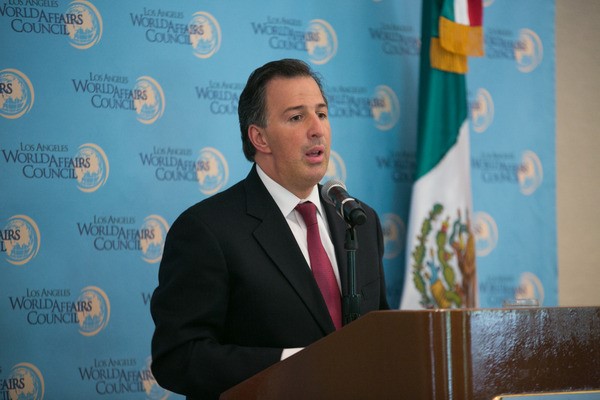 The image of Mexico in the US is outdated and fails to match what is going on inside the country today, where $1.25 billion of trade is done every day with the US, where long term monopolies in oil and telecoms have been opened up to private competition by the new government of President Enrique Peña Nieto, and where - believe it or not - the world's largest number of hot dogs are produced. "There is a perception gulf between what is happening in Mexico and what is perceived to be happening," Foreign Secretary José Antonio Meade told a lunchtime meeting of the Los Angeles World Affairs Council on Tuesday.
Sketching out an upbeat assessment of the current state of Mexico, Secretary Meade, who has a PhD in economics from Yale, said that "for over 80 years we have found ways to make democracy work, which has not always been the case in this hemisphere." The country's finances are sound, it is the 14th largest economy in the world, and "it purchases more from the US than from China and Japan combined." The statistics, some of them surprising, continued. Mexico is a larger market for the US than Germany, France, UK and Spain combined. In the last couple of years Mexico has invested more than the British in the US. "We believe that North America will become one of the most competitive regions in the world."
Mexico produces some 100,000 engineers a year, and has a young population - "we have the same demographics that the US had 40 years ago." One significant change was the landmark December 2013 decision to open up its oil business to private investment - having nationalized the industry in 1938. This will allow Mexico to bring in the types of technology and investment that are needed to boost the energy industry to international standards.
From a regional perspective, Mexico does $60 bn of trade annually with California alone, which is roughly equivalent to Mexico's entire trade with China. Los Angeles exports $15 bn a year to Mexico. "We want to talk with LA and California about security, immigration, the economy, healthcare and education - our presence in LA is very important to Mexico."
And then there are the hot dogs. Mexico is the world's largest producer of hot dogs. "So when you have a hot dog when you're watching the Dodgers play, the chances are it is from Mexico." And the bun on which it is served probably comes from Mexico too.
However despite the high-flying plans for Mexico, one member of the audience pointed out the devil is in the details. One priority, said Meade, is to simplify and accelerate the border crossing formalities, currently bogged down with long waits and inefficient security checks. "What does make sense is planning infrastructure for the future. What doesn't make sense is the way we are doing the border crossing today," said Meade.
Considering the changes that the current Peña Nieto administration has been implementing since it came to power in 2012, Meade said that "the best way to change perceptions is to change what Mexico is doing." Those changes are well underway - economic reforms have been pushed through the Mexican Congress, and drug-related violence has sharply declined in many areas, including Tijuana, Ciudad Juarez and Monterrey - although there will be a "continuing challenge" in Michoacan and Tamaulipas." Meade said Mexico now enjoys better security than Brazil . "We believe that the best narrative that can come out of Mexico is a narrative that shows results."