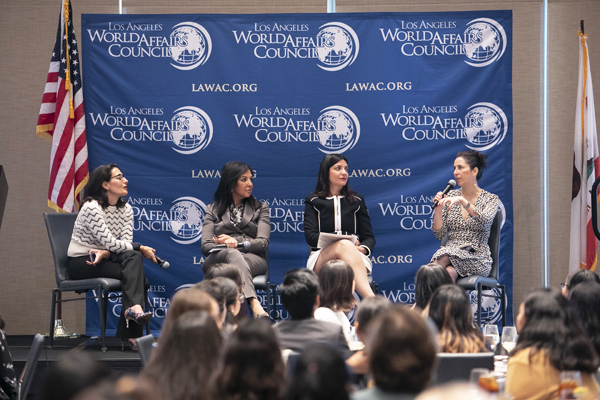 (From left) Maryam Zar, Lamia Mekhemar, Evgenia Beniatoglou, Ivonne Guzman.
LAWAC kicked off its first Youth Diplomacy Forum on March 7, 2019 with an International Women's Day panel discussion featuring Evgenia Beniatoglou, Consul General of Greece, Ivonne Guzman, Consul General of Ecuador, and Lamia Mekhemar, Consul General of Egypt. The discussion was moderated by Maryam Zar, who is the LA City Commissioner on the Status of Women and a LAWAC member.
All four speakers discussed their journey in foreign service and some of the biggest challenges they have personally overcome and grown from. They talked about specific issues facing women and youth in their countries and within their communities in LA.
For over 90% of participants, it was their first time meeting a Consul General. Following the event, a student acknowledged that "participating in events like this allows us to engage in dialogue with people from different nations and broaden our cultural awareness."
The event concluded with a question from a student on the veracity of news today. The Consul Generals assented that students should expose themselves to different types of media and read a variety of sources before forming an opinion. Students left with a better understanding of the role of a Consul General and how diplomacy is carried out at a municipal level.
To watch the full panel discussion click here.
To view and download photos from the event, click here.
About the Youth Diplomacy Forum
The Youth Diplomacy Forum is a new series for students in the LAWAC High School Program. The Forum aims to provide greater opportunities for LA high school students to interact with and learn from our leaders in world affairs. The inaugural forum included nearly 300 students from 12 high schools across the county. Consulate representatives from 17 consulates were dispersed among the students, and offered them advice on a career in diplomacy. The forum included a three-course lunch and a musical performance by students from the Colburn School.
Acknowledgements
Thank you to Consul Generals Beniatgolou, Guzman, and Mekhemar, and Ms. Zar for making the inaugural Youth Diplomacy Forum a success. We are also thankful to the support from our High School Program donors, which allows us to host discussions like this for the students. Thank you to all of the wonderful teachers who make it possible for the students to attend these events.
Click here to learn more about the LAWAC High School Program