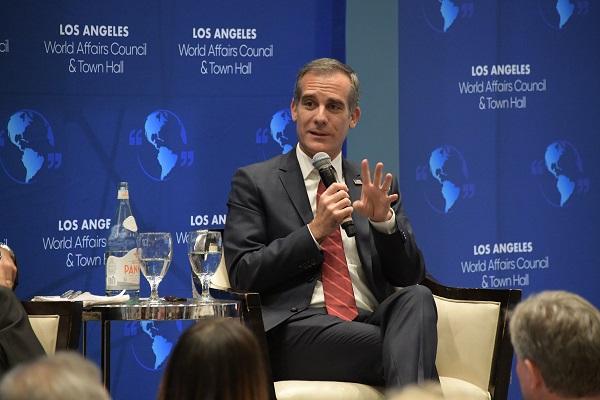 Mayor of Los Angeles Eric Garcetti speaks with LAWACTH members, guests, and Los Angeles Unified high school students.
On October 21st, 2019, the Los Angeles World Affairs Council & Town Hall had the honor of hosting Mayor Eric Garcetti for a discussion on Los Angeles as a premier global city and international gateway for the 2028 Summer Olympics.
When asked how Los Angeles could become more international, Mayor Garcetti responded that the city possessed all the necessary ingredients to become a premier global city, given its status as a prominent entertainment, aerospace, tourism, and financial capital. Los Angeles is also home to an emerging technology sector that includes companies such as Tesla, SpaceX, and Boeing. Speaking on income growth and labor force participation, Garcetti noted that "we are outpacing the US and the top four other big cities in America according to Bloomberg."
Looking ahead to the 2028 Summer Olympics, which will be hosted in Los Angeles, Mayor Garcetti stated his goals of improving the city's infrastructure and alleviating homelessness. Transportation infrastructure—the biggest area of concern for the upcoming Olympics—can be improved by utilizing innovations in interconnected vehicle technology and autonomous cars. Garcetti talked about striking a balance between embracing and regulating the rapidly growing influence of powerful tech start-ups. On the issue of homelessness, Mayor Garcetti favored fundamentally altering government policy on mental health and the human right to housing.
Mayor Garcetti also spoke on the global climate crisis, terming it "the issue of our lives." He cited alarming statistics on rising sea levels, vehicle emissions, and building pollution; all of which directly affect Los Angeles. Garcetti endorses a "Global Green New Idea", which would harness advances in technology to combat climate change while creating jobs in the process.
Mayor Garcetti took questions from members of the audience after the moderated discussion, including several inquiries on environmental justice and youth activism. The mayor stressed the importance of civic engagement and "everyday ordinary activism", which are essential preliminary steps to enacting meaningful change in society.