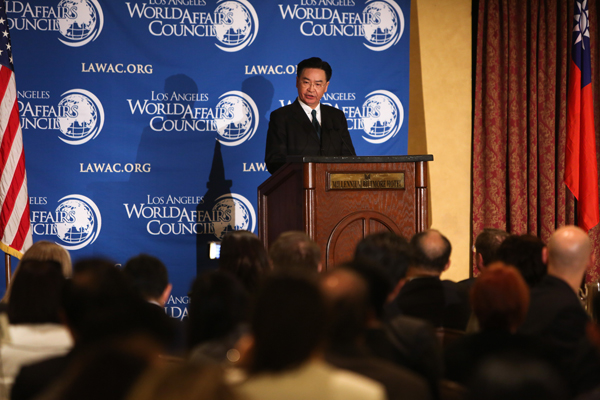 The Los Angeles World Affairs Council was honored to host Joseph Wu, Foreign Minister of Taiwan, on March 11th, 2019. Foreign Minister Wu started his speech by saying that the LAWAC slogan "conversations matter" was of deep importance to him and to Taiwan, as it promotes open discussion, friendship, and partnership.
Minister Wu spoke about Taiwan's commitment to defend and strengthen democracy in the region. He spoke of rising authoritarian regimes and illiberal populist movements that are threatening global freedom. Minister Wu spoke about the Taiwan-China relationship, saying "the democratic Taiwan is the David struggling with the authoritarian Chinese Goliath."
This year, Taiwan and the US celebrate the 40th anniversary of the Taiwan Relations Act, and Minister Wu said that the relationship is stronger than ever. "Taiwan marches forward in lockstep with our most vital partner and serves as an ideal ally for like-minded countries in the pursuit of a free and open Indo-Pacific."
To read the Foreign Minister's full remarks, click here. Watch the video here.