88 Minutes - Director: Davis Guggenheim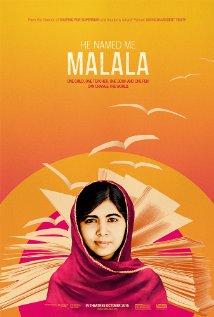 Malala Yousafzai is one of the most recognizable and unimpeachable figures on the world stage - the 15 year-old Pakistani girl who was shot in the face in 2012 by a Taliban gunman for having the temerity to encourage girls to go to school. She survived - thanks to some intensive medical care in the UK - wrote a book, won the Nobel Peace Prize in 2014 and now travels the world advocating for the right of all girls to be educated - in between continuing her own schooling in England. So inspiring and exemplary is her story that filmmaker Davis Guggenheim is challenged to produce a documentary that goes beyond the litany of praise and support that she universally receives. Fortunately he succeeds, and has produced a film that is both moving and revealing at a personal level, while at the same time highlighting the horrendous denial of such a basic human right as education to so many girls in countries around the world.
Guggenheim's camera gets up close to the quick-witted, self-assured teenager who confidently addresses international fora on the rights of girls, while at the same time at home she giggles self-consciously and covers her mouth when she is asked about having a boyfriend, and why she likes pictures of Brad Pitt, Roger Federer, and Pakistani cricketer Shahid Afridi on her computer. Her older brother says she is "naughty" because she is so bossy to her siblings, her younger brother complains that she hits him if he is out of order. She doesn't like the way her dad brews tea in the morning...
The film lingers on the role of her father, Ziauddin Yousafzai, who named his daughter after a famous young woman, Malalai of Maiwand, who rallied Afghans against British invaders in 1880. Some have questioned how much the father might have pushed his daughter into a role of resistance against the brutal Taliban who terrified her home town of Swat for years. She calmly rejects that and says that it was her own decision to take the risk of speaking out and defying the Taliban. "My father gave me the name Malala," she said. "He didn't make me Malala."
Event sponsor Better 4 You Meals provided boxed lunches for 300 high school students
In fact one of the most striking contrasts in the film is the calm, unflappable voice of Malala in contrast to the angry, shouting sermons of the Taliban leader on the local radio screaming that it is "not necessary" for girls to go to school, as his black-masked henchmen go around the town killing people and blowing up school buildings. Malala also travels to Nigeria to chide the president there for not doing more to rescue some 200 school girls (the "Chibok schoolgirls") kidnapped by the extremist Boko Haram movement, critiques US drone strikes on Pakistan when she talks with President Obama, and says, resoundingly, "One child, one teacher, one book and one pen can change the world."
Former British Prime Minister Gordon Brown movingly captures the poignancy of Malala's campaign and her relative youth when he introduces her to a standing ovation at a packed international conference: "Let me say the words that the Taliban did not want you to hear: Happy 16th Birthday, Malala." Now 18, Malala knows that if she returns to Pakistan "they will shoot me" - but she is still homesick for her country, and fantasizes about seeing her house just one more time. But the other part of her knows she now lives on a bigger stage, and that much is to be demanded of her. "I have been given a new life, and this life is a sacred life."
The Los Angeles World Affairs Council had two screenings of He Named Me Malala - on Wednesday, October 7th for general members and Monday, October 12th for 300 high school students as well as other LAWAC members. Following the student screening, Lindsay Guetschow, Film Campaign Director at the Malala Fund, joined the group for a Q&A session. Guetschow said that it is Malala's dream that "every child should be going to school" and their work through the Malala Fund focuses on three things: 1) advocating for all girls to have 12 years of education, a goal she said the Fund helped push through to be part of the UN's new Sustainable Development agenda, 2) investing money on the ground in areas of conflict, particularly for Syrian refugees, in areas including Pakistan, Nigeria, Kenya, Jordan and Lebanon, 3) amplifying girls' voices by providing them with a platform to connect with the Malala Fund and each other.
When asked about the risks involved with their work, Guetschow said they "fight against extreme ideologies by education" and that while they can't talk openly about where exactly they are putting their funds and support on the ground, they are going "person by person and community by community" and that change is going to take a long time because the threats are "extreme and entrenched." When asked what students can do to help, Guetschow referred to the Fund's website page for students - https://www.malala.org/students - which includes a student toolkit with information about writing a blog, signing a petition and starting a fundraiser. The Malala Fund is also partnering with the United Nations Foundation's Girl Up program to help the "hardest to reach girls living in places where it is hardest to be a girl." He Named Me Malala is screening nationwide in 75 cities and will be global by the end of the month.
Better 4 You Meals was LAWAC's event sponsor for the student screening and generously provided boxed lunches to all participants.