Secretary of Commerce Penny Pritzker, former Defense Secretary Robert Gates, author Reza Aslan, Rwandan President Paul Kagame
The beginning of 2014 has been very busy at the Council, with some high profile speakers including former Defense Secretary Robert Gates, current Commerce Secretary Penny Pritzker, and the President of Rwanda, Paul Kagame. Alongside our high quality programming, we have launched a new membership drive. This includes a special Amazon gift card offer for LAWAC members who introduce a friend or acquaintance to the Council. For each new member you bring us, we will give you a $40 Amazon gift card! Use that to buy yourself a book on foreign affairs, or anything else you want on the Amazon site. Just call us at (424) 258-6160 or email us at membership@lawac.org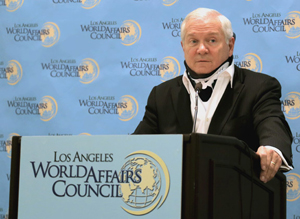 Former Defense Secretary Robert Gates at the Council on January 30, 2014
Robert Gates, who was defense secretary under two presidents – Bush and Obama – and for two wars – Iraq and Afghanistan – told a sold-out crowd of 550 Council members and guests about the wars he fought, not just overseas, but in Washington DC. For his entire four and a half years, he said, he was at war with the White House, the Pentagon bureaucracy, and most aggravatingly, with the Congress. "Getting anything done in Washington was so damnably difficult, even in the midst of two wars."
Penny Pritzker, the billionaire businesswoman who took over as Commerce Secretary last summer, told the Council about why US businesses should export more, particularly to Latin America. Religious scholar Reza Aslan gave us a fascinating look at the latest research into the historical figure of Jesus and how much we really know about his life (the answer - not a lot!). And the President of Rwanda, Paul Kagame, looked back over how far his country has come economically and socially since the genocide that killed some 800,000 Rwandans twenty years ago.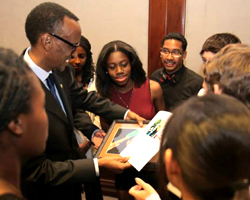 High school students present a gift to President Kagame during the student briefing before the main Council program
We have been steadily increasing the number of high school students whom we bring to our events, which is very popular and widely supported by our members. There were 50 students from 10 different high schools at the dinner for the Rwandan President. We believe this fits perfectly with our overall mission to help Americans understand the outside world – and where better to start than with students, eager to learn new things and be exposed to different cultures?
Coming up we have a dinner with a Russia expert from Georgetown University, Angela Stent, on March 12th – she will talk about "Putin's Playbook". On March 20th we will host Senator John McCain, the globe-trotting Arizona senator who is never shy about expressing his opinions on any matter, international or domestic. And on April 23rd, we'll be hosting Teach for America founder Wendy Kopp.
We thank all our members who helped us during the year-end giving campaign – your donations help us to continue putting on the high level programming and film screenings that you have come to expect, as well as to fund our student program. As ever, don't hesitate to contact us with your thoughts or suggestions – we welcome the feedback. I am always reachable on (424) 258-6160, and my email is tmccarthy@lawac.org.