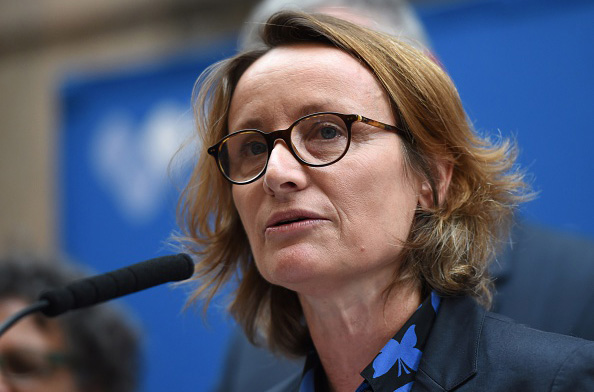 Sophie Delaunay, Executive Director of Doctors Without Borders/Médecins Sans Frontières (MSF) speaking at the Council
When Doctors Without Borders began treating Ebola patients in western Africa in 2014 they had no idea how big the epidemic would get - nor how long it would take the World Health Organization (WHO) and the rest of the international community to respond. For months Doctors Without Borders, along with Santa Monica-based International Medical Corps and several smaller NGO's, worked with very little support to treat patients and also educate communities in Liberia, Sierra Leone and Guinea about the highly contagious disease. "Everyone else left - even our insurance company which was meant to evacuate our people if they got sick left," said Sophie Delaunay, who is executive director of Doctors Without
Borders/Médecins Sans Frontières (MSF) in the US. "This meant that for the first time in my career we were not able to guarantee evacuation to our personnel," Delaunay told a Roundtable lunch of Directors and International Circle members of LAWAC on Tuesday. "It was not until some Americans got the disease that the world took notice," she said. Some 11,000 people have died from the Ebola outbreak, but were it not for the heroic early work of Doctors Without Borders and a few other NGOs, the death toll could have been much higher - some people were predicting 2 million deaths from Ebola in 2014. The epidemic is now finally on the wane - this week Liberia was declared free of Ebola, and the number of cases in Sierra Leone and Guinea has gone way down.
Delaunay said that the bigger lesson from the Ebola outbreak is that private humanitarian organizations cannot be expected to do the work of governments and the UN. "We have been critical of the WHO in Ebola," said Delaunay, "but we don't want to kill them, we want and need a stronger WHO."
After 22 years with MSF, Delaunay says that her biggest lesson learned "is that very few lessons have been learned in the past few decades." Most disasters, she says, are man-made, and yet very little is done between crises to prevent the next one happening. Humanitarian organizations are "essential" because "our world is so imperfect, and political systems often don't work." But the world cannot rely on charities - "I am very worried about the retreat of governments from health care - it is crazy that one NGO dealt with one third of all Ebola cases in West Africa."
MSF has 27,000 staff and volunteers around the world - 90% are local employees - and its annual budget has risen to $1 billion. MSF is non-partisan and apolitical, and they work in some of the most difficult and contested zones in the world, including Syria, Iraq, the Central African Republic, Afghanistan and the Congo. "We don't arrive with armed escorts, but we are very transparent and we talk to all parties [to a conflict] before we go in." They try to get agreements at every level, from the government down to the local fighters: "we are not going to put our people into danger unless we have some guarantees." In some areas they have not been able to get agreement from all parties to work - ISIS in Syria, the Shabaab in Somalia and Boko Haram in Nigeria have resisted MSF involvement. But after losing five workers in Afghanistan in 2004 and leaving the country, MSF managed to negotiate with the Taliban to reenter Afghanistan in 2011, and since then they have had no problems. "We always do exactly what we say we are going to do - because of course NGOs are always suspected of being spies."
Budgeting for the unexpected is a challenge - every year MSF allocates two thirds of its funds to ongoing operations, and leaves one third for emergencies. If there happen to be a series of enormous so-called "CNN crises" that deplete all their emergency funds, MSF will launch a special appeal to cover the shortfall. Last year with Ebola and the wars in Syria and the Central African Republic the organization was able to get a 67% increase in donations from the US alone in response to its appeals.
Asked about the problem of training volunteers to deal with crises, for example Ebola, Delaunay said that of course it was a challenge teaching people how to deal with a deadly contagious disease they hadn't seen before. "But even more important than training is leadership - finding people with the courage to take decisions and take risks - this is the game changer for us."