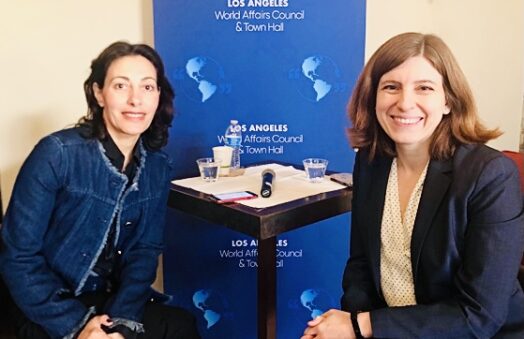 Maryam Zar with Heather Williams, former Acting National Intelligence Officer for Iran
On January 3rd, 2020 news broke that a US drone airstrike at Baghdad International Airport killed Iranian Major General Qasem Soleimani. Immediately, questions buzzed across the United States and around the globe: What caused this particular military action and what response should be expected? To help Angelenos make sense of this pressing issue, The Los Angeles World Affairs Council and Town Hall hosted an event on January 15 titled, "What's next for US-Iran Relations." Maryam Zar, an Iranian immigrant, founder of Womenfound, and member of the Council, moderated the discussion with Heather Williams, a Senior Policy Researcher at RAND and former member of the National Intelligence Council.
Both speakers brought important and unique perspectives to questions of US-Iran relations. Born in Iran, Zar emigrated as a child just before the revolution — first to France and then the United States. She returned to Islamic Iran as foreign correspondent in her 20s. Williams has a decorated history in national intelligence, formerly serving as both a Deputy and Acting National Intelligence Officer for Iran and a Senior Intelligence Analyst in the Iran Division of the Defense Intelligence Agency.
Zar began by asking Williams to take a step back from recent headlines and give a big picture overview of what's happening in the region. To do that, Williams began in the 2nd term of the Clinton Administration, when the US first started to look for opportunities to build stronger relations with Iran. As Williams weaved analysis from Clinton to Bush's presidency, she explained:
"A common theme we have seen historically with US relations with Iran is, we have an objective of what it is we want to achieve, but there's not a lot of strategy in how we're going to actually achieve that objective. And one continual problem that the US has is there's not a lot of leverage."
Because the US has been cut off from the Islamic Republic for so long, we don't have a lot of diplomatic, informational, military, or economic tools to try to affect Iranian policy or leaders. However, in its last two years, the Bush administration began a more distinct scaffolding of sanctions – leverage that proved effective. The sanctions strategy continued under Obama, now with the objective of achieving a comprehensive nuclear agreement. Through this overview, Williams concluded there was a distinct departure by the Trump administration from the Obama administration and those prior. Not only did Trump pull out of the Iran Nuclear Deal (JCPOA), the administration shifted to a maximum pressure campaign – a strategy the past three presidential administrations avoided. While the Trump administration is engaging in expanded strategy on the ground, what's missing now is a clearly stated objective for US-Iran relations.
After this thorough overview, Zar shifted the conversation towards the killing of General Qasem Soleimani. Williams explained that, again, this military action was a departure from previous administrations in two key ways: 1) The US has never chosen to go that far before, and 2) the US did not target Iran directly for proxy activity. Williams discussed the aftermath of the attack and used her intimate knowledge of the region to conclude that Iran is not finished responding.
The latter half of the conversation focused on internal Iranian politics, US-Iraq relations, and the JCPOA. When assessing the merits of Trump leaving the JCPOA, Williams paused to reiterate the positon of a National Intelligence Officer. She stated:
"Intelligence Officers in the United States pride themselves on the fact that we are apolitical, we are nonpartisan, we are here to tell policy-makers what we think will happen if they do X. We're there to be your trusted, impartial, unbiased advisors."
And from this disclaimer, Williams concluded that she saw no evidence, whatsoever, that Iran wasn't complying with the JCPOA. She detailed the extreme level of trust it took for Tehran to agree to the Nuclear Deal, and how drastic it was for the US to pull out. Iran took a chance on the deal and US diplomacy in the future will likely struggle to repair that now broken trust.
After a thought-provoking audience Q & A, both Zar and Williams called upon their unique perspectives to state that they are still hopeful for a better US-Iran paradigm moving forward.