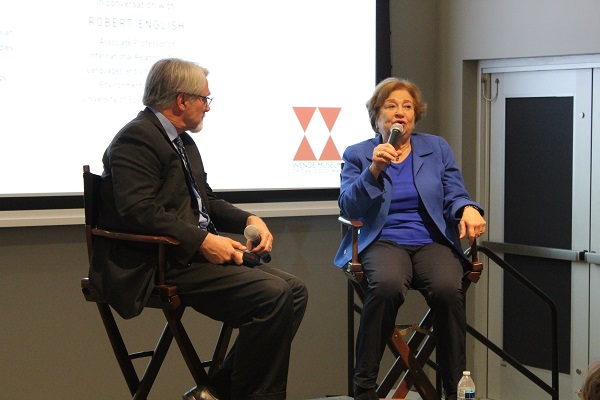 Dr. Robert English of USC and Dr. Angela Stent, April 2019
"Despite Russia's economic weakness, Russia has reasserted its rightful place on the world stage, and joined the global board of directors. The world can no longer ignore it. It is respected and feared. Even as Russia's relations with the West deteriorate, the West has to deal with it." In a moderated conversation with Dr. Robert English – associate professor of International Relations at USC, Dr. Angela Stent - Director of the Center for Eurasian, Russian and East European Studies at Georgetown University, described how the collapse of the Soviet Union engendered expectations of an emergent pro-West post-Soviet Union and explained the events that have transformed the Russia-US relationship since 1989.
Expectations for a more Western Russia were extinguished in the aftermath of 9/11. Putin extended an olive branch to US, offering intelligence and cooperation in Afghanistan. The Bush administration accepted Russian assistance but concurrently invaded Iraq, expanded NATO right up to Russia's borders, and withdrew from the Anti-Ballistic Missile (ABM) treaty, which was seen as a linchpin to strategic balance. According to Stent, Putin wanted an "equal partnership of unequals" and expected Russia's sphere of influence to be respected. Instead Putin "saw a series of actions that US took that were antithetical to Russian interests." The New START arms control agreement was a step forward under Obama and Medvedev. However, in early 2011, the Libyan crisis erupted and in December of that year, Putin announced that he was going to switch jobs with Medvedev.
Stent observed that as long as Putin is in the Kremlin, US-Russia relations will remain strained. Stent's greatest worry is the lack of a bilateral arms control agreement. The have been arms controls in place since 1972 but those safeguards could collapse in 2021 unless the current administration decides to extend it for another five years.
Stent added that China should be brought into the dealings since Beijing aligns with Moscow in the international fora. According to Stent, the partnership between both countries is growing stronger. Russia and China band together in the UN Security Council, a reflection of their efforts towards a "Post-West Order." Xi Jinping and Vladimir Putin meet six times per year. They met in April as part of the Belt and Road Initiative Forum. Stent shared that they constantly praise each other. Xi has said that Vladimir Putin is his best friend. Stent was asked about how North Korea fits into the Xi-Putin relationship. She revealed that Russia has ceded much of the negotiating clout to the Chinese. However, she foresees greater Russian action following Kim Jong Un's visit to Russia.
When asked what constitutes success in Syria for Putin, Stent answered that an immediate success is for Assad to remain in power. Russia recently modernized a naval and air base in Syria. Russia's military presence will continue and by extension it will strengthen its own role in the Middle East. Russia is a part of the Astana Peace Process with Turkey and Iran, making them the main regional powers following the decision by the US to withdraw troops from Syria. The Astana Peace Process is a tripartite effort to end the Syrian conflict. It was established in 2017 by Russia, Iran, and Turkey. Robert English noted that these three countries "are in the driver's seat," but admonished the audience that, "it's a pretty bumpy ride."