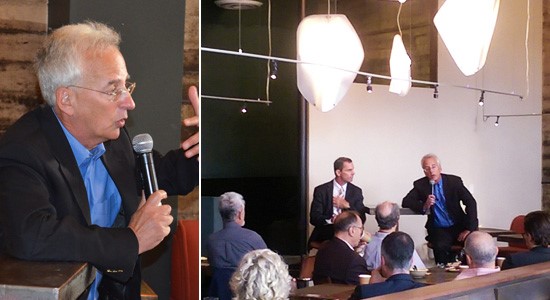 Andrew Zimbalist, Professor of Economics at Smith College, at a breakfast meeting of the Council
"There is going to be significant risk," said leading sports economist Andrew Zimbalist of Los Angeles's bid for the 2024 Olympics. Zimbalist spoke to the Los Angeles World Affairs Council at a breakfast on October 8th and talked about the escalating costs of hosting the Olympics, corruption within the IOC, and what it will take for Los Angeles to win the bid.
Zimbalist started by talking about Los Angeles's bid for the 1984 games. "Nobody wanted to host the Olympics then," he said adding that previously there were "three debacles - Mexico in 1968, Munich in 1972 and Montreal in 1976." On the latter, Zimbalist quoted Montreal mayor Jean Drapeau who famously said when announcing their budget, "The Olympics can no more run a deficit than a man can have a baby." Subsequently, the overrun cost was 9 times the initial budget and the city was left with a debt of $1 billion which it took them 30 years to pay off. Because no other city wanted to host the Olympics in 1984, Peter Ueberroth, the LA organizer, was able to broker a deal where the IOC would backstop the games so the city wouldn't have to. And then he went on to make a profit anyway. "Los Angeles was terrific for the Olympic movement," said Zimbalist. In 1992 Barcelona was a success, more cities competed for bids, and in the early 2000s the BRICs - Brazil, Russia, India and China - began to participate, driving the costs up from $10-20 billion to $40-50 billion. And then the deficits hit again. Overall since 1976 "the average cost overrun for staging the Olympic Games is 252%," he said.
The new head of the International Olympic Committee in 2013, Thomas Bach, began to campaign for a new 'Olympic Agenda 2020' - to make the Olympics more affordable, sustainable and flexible for cities. "He had to change the optics," said Zimbalist. These efforts seem to have had some success initially, according to Zimbalist, with 5 cities bidding for the 2024 games - Los Angeles, Paris, Budapest, Rome and Hamburg. However, Zimbalist argued, there were "many ironies" with regards to the countries bidding for the 2022 Olympics - notably Kazakhstan and China because of their issues of "sustainability, repressive governments, and awful record with regards to human rights," said Zimbalist.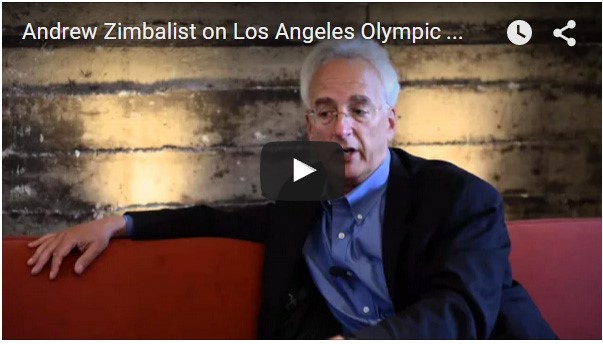 Click to hear more from Andrew Zimbalist
On corruption issues within the IOC, Zimbalist said FIFA is worse. Longtime president Sepp Blatter and other top officials are currently suspended pending a corruption investigation and FIFA is "basically run as mafia," he alleged. There is a lot at stake with the IOC which is estimated to bring in $4.5 billion in revenue from ticket sales, corporate sponsorships and TV rights for each 4 year cycle, according to Zimbalist. "Thomas Bach has an expense account well over a million dollars," he said. There is a core systemic problem with both organizations because they are "international monopolies," said Zimbalist. There is no natural regulatory body to oversee them. "That invites corruption, that invites abuse," he said. "Corruption can be minimized but it's not going away." When asked if he thought either organization would go defunct, Zimbalist said he didn't and added that there have been efforts for competition but those have been defeated. "We'll have to see what comes out of the next several games," he said.
Asked whether he thought Los Angeles will get the 2024 games, Zimbalist first explained that the city lost 8 months in the process when Boston was originally the frontrunner for the U.S. It wasn't until July 29th that the USOC realized they made a "bad choice" and pulled the bid from Boston. LA 2024 then tweaked their previous plan which includes budgeting an Olympic Village at $1 billion. "I can't for the life of me get my head around that number," said Zimbalist who thinks it could cost a lot more, and sees this as one of LA's biggest challenges. Boston's bid allocated $2.8 billion for the Olympic village and Tokyo budgeted $3-4 billion for the 2020 games. Zimbalist explained that building the Olympic Village is an elaborate process - including places for the 17,000 athletes to stay, the restaurants, training facilities, training labs, swimming pools, entertainment facilities, and medical facilities. "And it's expensive," said Zimbalist. But aside from the Olympic Village, LA is in a good place: "One of the advantages LA has is it has 90% of the venues needed," said Zimbalist, which means not a lot of extra costly construction.
"The goal would be a financial break even," said Zimbalist who was scheduled to meet with Mayor Garcetti later in the day. "Studies have suggested that there isn't an economic benefit," said Zimbalist whose most recent book is titled Circus Maximus: The Economic Gamble Behind Hosting the Olympics and the World Cup. "There's a feel-good benefit," he said, "a sense of community, volunteerism, and many Angelenos will have the opportunity to see the world's best athletes first-hand." But the notion that the Olympics is going to "boost tourism, foreign investment or trade," Zimbalist said, "there is no evidence that's going to happen."