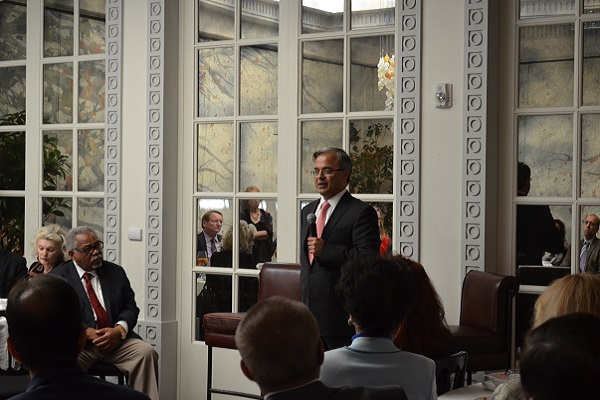 Dr. Asad Majeed Khan speaks to LAWAC members at a recent roundtable lunch.
Pakistan's Ambassador to the United States, Dr. Asad Majeed Khan, spoke about some of his country's main concerns at a recent Roundtable Lunch. Democracy, peace and security, and economic development were omnipresent in this roundtable discussion with IC and Board Members.
Ambassador Khan spoke of a nexus between peace and development, believing that neither peace nor economic development must come first, but that whichever does, the other will follow. The Ambassador stated that Pakistan's best chance to secure peace on its eastern border with Afghanistan and its western border with India is to develop economically, and vice versa, that securing peace on the borders will bring development. As such, Pakistan must work towards both peace with its neighbors and securing economic aid and foreign direct investment at the same time. The Ambassador did express his belief that without increasing its international competitiveness, however, increased economic aid and investment will not matter.
Within the same theme of peace, Ambassador Khan talked about the role Afghanistan has played in U.S.-Pakistan relations for the past 40-plus years: the relationship between Washington and Islamabad has been viewed almost exclusively through the lens of conflict within Afghanistan. The Ambassador wants all of Afghanistan to get behind the peace process, believing that is the only way for the country – and the region – to move forward. This seems quite obvious to the American observer, but is an important statement coming from a country which has seen Afghani insurgent and terror groups seeking refuge within its tribal regions on the border, most notably the Haqqani network.
Ambassador Khan also spoke of the reforms that new Prime Minister – and former cricket star – Imran Khan has put forth. The Ambassador noted that Prime Minister Khan is working to better deliver public services to the people of Pakistan, and is trying to help them achieve their dreams, which are no different from ours in America: a good job, healthcare, security, education, and so on. The mostly peaceful election of a new government was, to the Ambassador, a historic coming of age for Pakistan's democracy. For the country to successfully hold elections was clearly a proud moment for the Ambassador.
Ambassador Asad Majeed Khan has been Pakistan's ambassador to the United States since January 11, 2019 when he officially presented his credentials to President Donald J. Trump. Before this, he served as Pakistan's ambassador to Japan. He is a career foreign service officer, and has been in the diplomatic corps since 1990.