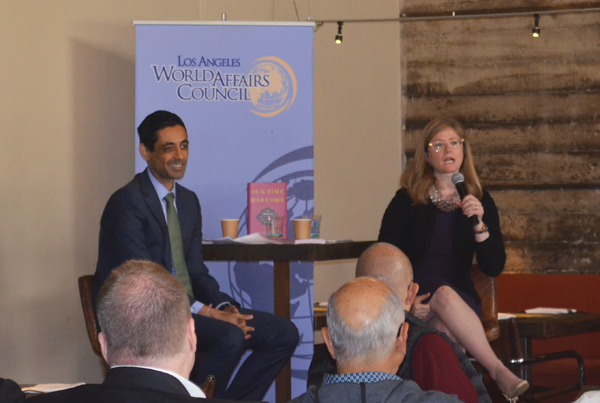 Pranav Popat moderated a discussion with Alyssa Ayres at a Global Cafe Breakfast on April 26, 2018.
"India is a major world power, but many people still don't know that," said Alyssa Ayres, Senior Fellow of India, Pakistan and South Asia at the Council on Foreign Relations, at a LAWAC Global Café Breakfast. In a discussion moderated by Pranav Popat, LAWAC member and principal at VPN Partners, Ayres discussed India's economic rise, its role on the world stage and its unpredictable future.
India is growing at a tremendous rate, with some predicting India to surpass France and the UK to become the fifth largest economy in the world by the end of 2018. Part of this rise has come from India being the fifth largest auto producer in the world, producing one-third of the world's small cars, which are mostly shipped to non-US countries. One reason Ayres believes people are unaware of India's progress as a world leader is due to the "many domestic vulnerabilities that can crowd out its participation on the global stage." While the country has taken steps in recent years to develop laws allowing for greater economic growth, Ayres said there is still much to be done for labor reform before India can truly reach its potential.
On India's relationship with China, Ayres said that India has both a competitive and cooperative relationship with China. India is concerned with China's growing influence in South Asia, its assertiveness across the Indian Ocean and its One Belt, One Road policy. India and the US's convergence of views on China, especially One Belt, One Road, has helped bring the two countries closer together in the last 12 years, but they still are not necessarily allies according to Ayres. "India is neither an ally nor an enemy", she said, "they're more of a business partner and the US needs to reframe the way they think about India for the partnership to be successful."
When asked about next year's general elections, Ayres said, "I don't make predictions about Indian politics." According to Pew Research Center, Prime Minister Modi has an 88% approval rating. But India changes so quickly that it could be a completely different story come May 2019. "Indian politics are highly unpredictable," Ayres said, pointing to the shocking loss by the ruling Bharatiya Janata Party (BJP) in 2004, despite predictions that the BJP would sweep the elections. To which Popat responded, "So are US politics right now," drawing a laugh from the audience.
Ayres has new book out called Our Time Has Come: How India is Making it's Place in the World. Get your copy here.