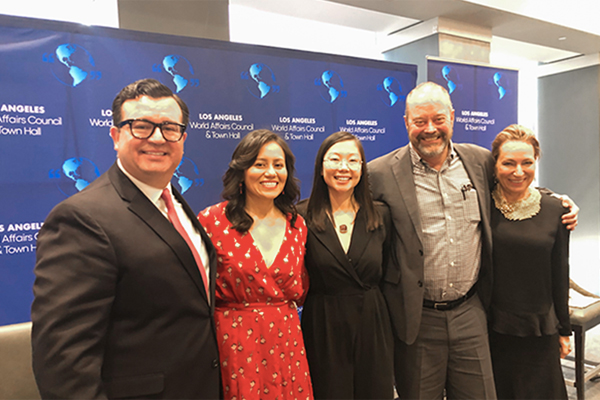 Panel: Xavier A. Gutierrez, Martha Saucedo, Helen Leung, William Deverell, and Donna Bojarsky
On January 26th, 2020 TMZ broke news that a helicopter carrying Los Angeles Lakers star Kobe Bryant crashed near Calabasas. In total, eight people died including Bryant and his 13-year-old-daughter Gianna.
Just four days later, the Los Angeles World Affairs Council & Town Hall hosted a panel discussion focused on the future of civic leadership and infrastructure in LA. The panel's moderator, Donna Bojarsky—a native Angeleno and decorated civic leader–situated the conversation within the context of Kobe's death:
"It's not an inappropriate moment that we gather. This man was in our living rooms, he was part of our fabric for so many years. He very much had an LA spirit which is: damn it I can do it, and I can work hard, and I can do it. He was imperfect but we like imperfect people here right? We don't like the stayed, old answers to things—we like new answers and people that are bringing new energy and new ideas."
The discussion featured: William Deverell, History Professor at USC and Director of Huntington-USC Institute on California and the West; Xavier A. Gutierrez, Managing Director of Clearlake Capital Group and California Community Foundation Director; Helen Leung, Co-Executive Director, La Mas and LA's City Planning Commissioner; and Martha Saucedo, Senior VP of External Affairs at AEG and Member of the Board of Directors at Central City Association.
Bojarsky's tribute to Bryant foreshadowed the remaining conversation between all five panelists. Each contributor agreed that fostering civic leadership in Los Angeles requires new energy and new ideas, coupled with a Kobe Bryant style 'I-can-do-it-damn-it' grit.
The panelists grappled with how the private sector, in this huge and complicated city, can step into civic leadership. And not only step up, but step into a model of leadership that promotes a fair and just Los Angeles. They wrestled with the role of charisma in civic leadership, and how to build necessary coalitions in this ever-changing city. They answered questions all Angelenos should be posing when looking towards the city's future: How can we have a sense of shared purpose? And, how can we make civic leadership in Los Angeles as important of an issue as all the others this city faces?
Kobe Bryant joined the Los Angeles Lakers straight from high school, where he stayed for all 20 of his professional seasons. Bryant won over this city through his basketball success, but more importantly, his work ethic as a young player which later developed into his role as a prominent civic leader. Thinking of his lifelong leadership in conjunction with our city's future leaders, panelist Xavier Gutierrez reminds us:
"There is a young woman at a community college right now that in 10 years will be talking about leadership in this city. So what do we do to make sure she feels that she has the space to talk about that?"
While all 5 panelists agreed that the future of Los Angeles rests on those young, gritty, hardworking leaders – it is up to our current leaders to build the civic infrastructure that younger generations will need in order to have their voices heard.